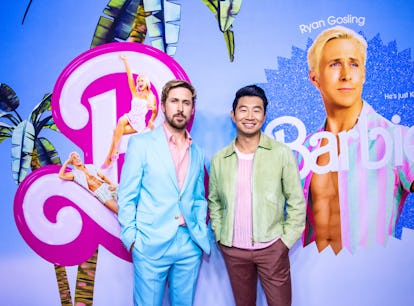 Simu Liu Addressed *That* Awkward Viral Moment With Ryan Gosling
There's no bad blood between these two Kenadians.
Mathew Tsang/Getty Images Entertainment/Getty Images
The Kenergy radar is on high alert this summer. Ever since Barbie was released on July 21, all eyes have been on the male plastic muses. It's a bit hard to miss them, as the impressive promotion of the film has reached nearly every corner of Hollywood. Specifically, fans are *obsessed* with fellow Kens Simu Liu and Ryan Gosling, who are enemies in the film. However, some believe their doll rivalry extends beyond BarbieLand. Recently, a video of the duo having a tense interaction went viral on Twitter. And now, Liu's shutting down those rumors.
The video shows both actors attending a Barbie press run in Toronto on June 28. While posing for photos on the pink carpet, Liu placed his arm behind Gosling, who stood next to him. Gosling looked down at his hand and took a step back, seemingly brushing him off. In response, Liu moved his hand and shared a few words with Gosling before returning to take photos.
To fans, the vibe behind this video felt tense. That observation only skyrocketed once Page Six reported what was said during their brief conversation. According to the outlet, Gosling apparently said, "Don't hold me there, man. I mean, do you want me to touch you like that?" Liu then replied, "You don't what — oh, it's too tender? Fair enough."
On July 27, Liu addressed the clip on his Instagram Stories. "I'd beach off with this Kenadian again in a heartbeat," he began the post, which includes a photo of both actors smiling after the viral moment.
Before Liu spoke about the interaction on Instagram, this moment sparked some debate on Twitter. One side believed the two might have some underlying beef, hence why Gosling didn't want to be near him. One user even noted Gosling's actions came off as rude, and to see him in that light surprised them. Meanwhile, the other side credited Gosling's cold shoulder as him still playing his Ken character.
However, according to Liu's Stories, it seems fans were looking too deeply into the situation. He continued, giving his co-stars some major flowers. "[Gosling] is the best human in every way, especially when he jokes around with us on the carpet and on set, infecting all of us with his Kenergy."
Liu concluded his note with a nod to the ongoing SAG-AFTRA strike. He wrote, "Now let's get back to the issues that matter, like supporting our striking actors and writers fighting for fair wages!"
At least the duo didn't need another dance-off to settle their differences.