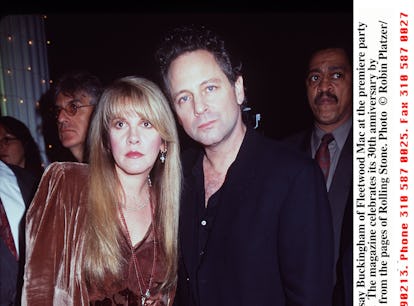 Why Is Everyone Talking About Fleetwood Mac's "Silver Springs" Right Now?
It has to do with Daisy Jones & The Six.
Robin Platzer/Twin Images/Hulton Archive/Getty Images
The TikTok algorithm is being taken over by two types of videos: Daisy Jones & The Six montages and the 1997 Fleetwood Mac performance of "Silver Springs" at Warner Bros. Despite the 25-year gap between the two productions, they're intrinsically tied — and, potentially, equally dramatic. Confused? Here's everything to know about the "Silver Springs" Fleetwood Mac drama between Stevie Nicks and Lindsey Buckingham.
The novel Daisy Jones & The Six (which was the basis for the Prime Video series of the same name) was directly inspired by Fleetwood Mac. The author, Taylor Jenkins Reid, explained in an interview with her publisher, "I started with the germ of Stevie Nicks and Lindsey Buckingham and Fleetwood Mac." Specifically, the 1977 album Rumours spoke to her. "It was the beginning of it for me because it's an album, but… it's also a soap opera."
The song "Silver Springs" plays a key role in that soap opera, though it notably did not make it onto the original Rumours album. If you haven't listened, the lyrics go like this: "So, I begin not to love you / Turn around, see me running / I say, 'I loved you years ago' / Tell myself you never loved me, no" and "I'll follow you down / 'Til the sound of my voice will haunt you / Give me just a chance / You'll never get away from the sound / Of the woman that loved you."
In the '70s, Nicks wrote the song after her breakup with bandmate Lindsey Buckingham. (He wrote "Go Your Own Way" about her.) Per the Los Angeles Times, Nicks told Rolling Stone, "In Lindsey's mind, all the other women that came after me were all going after rich rock-and-roll star Lindsey... Nobody was looking into the heart I had looked into. Nobody was seeing the guy before he was famous. We knew each other before. That's what makes us unique to each other."
The song is viral on TikTok now because of a live performance 20 years after the song was written. In it, Nicks stared directly at Buckingham (seemingly into the depths of his soul) while she sang about haunting him. Check it out here:
TikTok's obsessed with the lore surrounding this song — especially how it relates to Daisy Jones & The Six, a fictional band with an equally messy web of affairs. Here are some of the most viral videos on the app, so you can see the similarities for yourself.