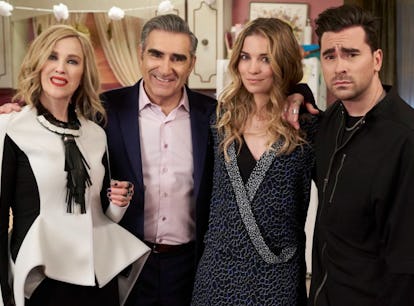 30 Comfort Shows To Watch On A Weekend At Home
Give me all the Schitt's Creek vibes
Pop TV
The funny thing about Schitt's Creek is... pretty much everything. From the town's name to the characters' quick-witted dialogue, the CBC sitcom warmed viewers' hearts while simultaneously making them double in laughter. While no other show can quite compete with the series, there's a good chance you'll find similar vibes in other shows like Schitt's Creek that are out there, just waiting to be loved.
When its first episode premiered in early 2015, Schitt's Creek mostly flew under the radar. However, over the years, as diehard fans spread the word about the joys of the show, it gained more and more of a following. The Schitt's Creek craze picked up in 2017 when Netflix picked up the streaming rights to the series. Then, after the show swept the 2020 Emmys Comedy categories, it was all anyone could talk about. To this day, the Schitt's Creek craze lives on — even though its final season has come and gone.
While you can rewatch the six-season hit as many times as you want on Netflix, if you're looking to change things up, you'll find that other shows provide some of the same feel-good charms in different ways. Whether you loved the quirky characters, the small-town vibe, the emotional storylines, or the LGBTQ+ representation, there's something for you in the list below. Although these shows might not make you hum "A Little Bit Alexis" the rest of the day, they're worth a watch between rounds of revisiting Schitt's Creek.
Love this list? Create a Likewise account to save these recs to your own watchlist and follow Elite Daily for more. You'll always know exactly what to watch next.
Whatever component you loved most about Schitt's Creek, there's a good chance there's a series on this list that will fill the void the Rose family left.
This article was originally published on