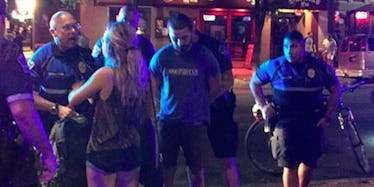 Shia LaBeouf Was Arrested For Being Drunk In Public In Texas (Photos)
Looks like Shia LaBeouf is back on the wagon.
The "Transformers" star, who went to rehab in 2014 for alcohol addiction, was arrested in Austin, Texas last night for public intoxication.
The 29-year-old was first stopped by police while walking on the street at around 9 pm outside of a local bar. Witnesses described him as "intoxicated," and many snapped photos as he was taken into custody.
LaBeouf was taken to jail where officers said he'd have to spend a "minimum of four hours." It is unclear if he has yet been released.
The actor has a long history with legal troubles, starting in 2005 when he showed up at a neighbors house wielding a knife. This is his sixth arrest since then.
Shia Labeouf just got arrested outside my bar lol pic.twitter.com/mYFoWx05Hf — Kelsie Nugent (@kelsie_rae) October 10, 2015
Citations: Shia LeBeouf Arrested In Texas For Allegedly Being Drunk In Public (BuzzFeed)