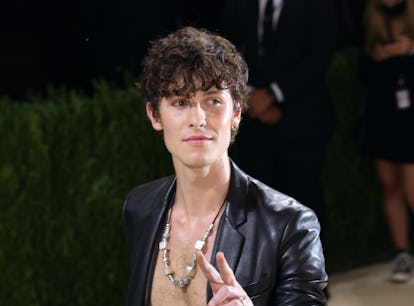 Shawn Mendes Threw Subtle Shade At Taylor's Boyfriend Joe, And It Was Awk
He had some serious explaining to do.
Taylor Hill/WireImage/Getty Images
If there's such a thing as being too honest, Shawn Mendes doesn't think so. The "Monster" singer got real in a new interview when asked about Taylor Swift's boyfriend, Joe Alwyn. At first, Mendes lied about liking Alwyn, but he changed his answer by the end of the chat. Yep, Mendes threw some subtle shade Alwyn's way, and fans are having a field day over it.
The saga all went down in a video published by Vanity Fair on Sept. 20. The clip, titled "Shawn Mendes Takes a Lie Detector Test," showed Mendes giving his very honest opinion on a number of different celebs including John Mayer, Harry Styles, and Justin Bieber. When Alwyn's name came up, he really didn't hold back.
Mendes first made a point to say he keeps in close touch with Swift. "I always am asking her for advice on music," he said of the singer. As for his friendship with her boyfriend, that seemed to be pretty non-existent.
When asked if he approves of Swift's boyfriend, Mendes said, "I've never personally met Joe, but he looks like a sweet guy." Unfortunately for Mendes, the lie detector test administrator said that was not true. "You're not telling the truth. You're being deceptive," he said.
Mendes went on to admit he may have been fibbing about his thoughts on Alwyn.
"I'm lying a little bit?" Shawn asked. "Yeah, I mean, he's kind of got a little bit of a villain look about him. He looks like a nice guy but, like, he at any movement could turn into a villain, you know?"
Of course, Mendes was just joking around. But he went on to say that he finds Alwyn's crystal blue eyes part of the problem. "He's got really blue eyes and I struggle with eyes that blue, you know? Like I find it easier to trust brown eyes," he said in the video.
No word yet on whether Alwyn has caught wind of Mendes' subtle shade, but shoutout to Mendes for keeping it real.