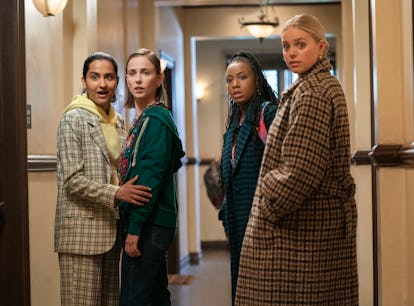 7 SLCG Theories After That Wild Season 2 Finale
Shook doesn't even begin to cover it.
HBO Max
The Sex Lives of College Girls may be a comedy, but that doesn't mean it isn't also full of drama. As anyone who's been to college knows, those scholastic years usually wind up being about a lot more than just school. The drama-filled Season 2 finale, which dropped on HBO Max on Dec. 15, is a testament to that. Here are all the best theories about what will happen in The Sex Lives of College Girls Season 3.
The end of TSLCG Season 2 also lines up with the end of the girls' freshman year at Essex College. But even after a year at school, it seems like old habits die hard for them. Leighton (Renée Rapp) got back together with her ex, Alicia (Midori Francis). Meanwhile, Kimberly (Pauline Chalamet) once again found herself in a romantic entanglement with someone who has history with one of her suitemates. Only this time, instead of her beau being Leighton's brother, it's Whitney's (Alyah Chanelle Scott) ex, Canaan (Christopher Meyer), which, TBH, is even messier. And to top it all off, Bela (Amrit Kaur) delivered the biggest shocker of all at the very end of the SLCG Season 2 finale by revealing her intentions to transfer out of Essex College.
It's all a lot to take in, but that just means there will be a lot story to cover when the show returns for Season 3, which is already in the works at HBO Max. There are a lot of ways all this drama might shake out.
Seasons 1 and 2 of The Sex Lives of College Girls are streaming on HBO Max.