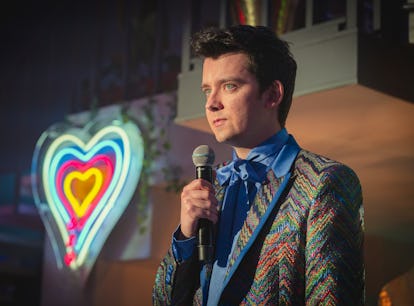 Sex Education Ended With A Shocking Breakup & Fans Aren't Happy
This fan-fave ship has sunk for good.
Netflix
Sex Education fans have spent four years watching their favorite awkward British teens navigate the messy ups and downs of young love, but now, it's time to say goodbye. The fourth and final season of Netflix's ensemble sex dramedy was released on Sept. 21, finally revealing the endings for each of the beloved main characters. And it's safe to say... some of these endings were received better than others. In particular, one breakup tore the fandom apart, with many longtime viewers left mourning the loss of their favorite relationship as the end credits rolled.
Spoiler alert: This post details events from the Sex Education series finale. Otis' love life has always been a roller coaster, hesitantly fumbling between Ola, Ruby, and Maeve. But it's Maeve who's always been the constant... until she left for America at the end of Season 3. For a good chunk of the final season, Otis and Maeve were an ocean apart, but their undeniable connection sparked up once again when Maeve returned to Moordale for her mom's funeral.
For a bit, it looked like the Otis and Maeve shippers were going to get a happy ending, which only made the show's final scene even more heartbreaking. After Maeve realized she needed to go back to America to pursue her writing, and resolved to stay there for good, she left Otis a goodbye note thanking him for all he'd done for her. And that was the end of that.
The ending hit fans hard after so many seasons of the show building up Otis and Maeve's relationship. Shippers shared mourning posts that the couple wasn't endgame, with some fans even straight-up refusing to believe the breakup. "I'm so sorry they did that to you maeveotis," one fan lamented over a fancam of the couple's romantic moments. "Why would they give maeve and otis 4 seasons of buildup just to break them up an episode before the finale and have them end the show separated," another fan wrote. "They wasted everyone's time."
Other viewers saw the breakup as emblematic of Season 4's overall problems, complaining that all the new characters that were brought in distracted from the core group. "I am actually GUTTED at this attempt to wrap up the show," an upset fan posted. "Three seasons of pure gold all thrown away by suddenly adding in THE MOST RANDOM new characters and story lines while completely neglecting core characters and relationships."
But not everyone saw Otis and Maeve's ending as something so finite. "People are truly missing the point of the ending," one fan wrote of the breakup. "I don't get how people think they're never gonna speak to each other again. they need space now to get used to not being together, but they will always love each other and are endgame."