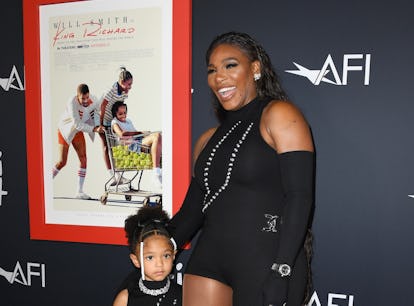 Even Serena's Daughter Was Surprised By Her Pregnancy Reveal At The Met Gala
Olympia found out with the rest of the world.
Jon Kopaloff/Getty Images Entertainment/Getty Images
Serena Williams was so good at hiding her second pregnancy that even her own daughter didn't know about it until her big reveal at the Met Gala. On May 1, the tennis superstar surprised everyone by debuting her baby bump on fashion's biggest night, confirming she is pregnant with Baby No. 2. And Williams' first child, Olympia, found out she would become a big sister at the same time the rest of the world learned of the pregnancy. Williams revealed why she kept the secret from her daughter in a candid video following the event.
Williams announced her pregnancy in the flashiest way possible, by showing off her bump in a custom Gucci gown at the Met Gala. At the same time that viewers were taking in the big reveal, Williams' daughter, Olympia, had only just found out about her future sibling. Williams got real about that decision in a short teaser for her new YouTube channel.
"Olympia does not know right now that I am pregnant, so the big reveal will be at the Met, and then before we leave, I'll tell Olympia," Williams shared. She clarified that the purpose for the secrecy was simply because her 5-year-old daughter doesn't exactly excel at confidentiality. "The reason I haven't told her is because she can't keep a secret."
Thankfully, the secret was secure, and Williams' Met Gala appearance alongside her husband, Alexis Ohanian, became one of the biggest highlights of the night.
The pregnancy comes about half a year after Williams retired from professional tennis in the fall of 2022. While Williams continued to compete throughout the start of her pregnancy with Olympia in 2017, she revealed in the 2022 Vogue essay she wrote announcing her retirement that her desire for another child was part of her decision to leave the sport.
"Alexis and I have been trying to have another child," Williams wrote. "I definitely don't want to be pregnant again as an athlete. I need to be two feet into tennis or two feet out."
She also shared how much Olympia wanted to be a big sister. "Sometimes before bed, [Olympia] prays to Jehovah to bring her a baby sister. (She doesn't want anything to do with a boy!)," Williams shared.
Well, it sounds like Olympia's prayers are being answered.