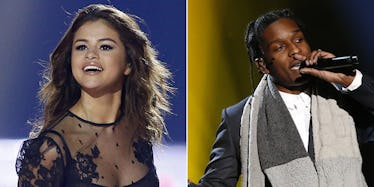 Selena Gomez Reacts To A$AP Rocky Saying She's 'Only F*cked Justin Bieber'
REUTERS/Mario Anzuoni/Danny Moloshok
If you haven't seen the sexy photos from Selena Gomez's GQ cover shoot yet, then you're definitely missing out. I suggest you go take a look at those babies ASAP.
The magazine sat down with the 23-year-old singer to do a feature on where her career started and how far she has come.
It can sometimes feels like yesterday Selena got her start on "Barney & Friends." Now, she's modeling in designer bathing suits against random cabins in the woods. She's a real woman now, and the past is in the past, just like her relationship with ex-BF Justin Bieber.
In the exclusive GQ interview, Justin is mentioned a little, but Selena mostly opens up about her fame, music and movies.
In one part of the interview, however, Selena is asked about a comment A$AP Rocky made on her Billboard profile. According to GQ, Rocky didn't recognize Selena when he heard her demo. He was quoted saying,
She's developing her sexiness... I don't think she's there 100 percent yet. She's probably only f*cked Justin Bieber, if that.
Uhhhhhhhhhhhhhhhhhhhh... come again? The rapper added,
But honestly, she wasn't looking for a No. 1 hit. She did it to excommunicate herself from her image. That's brave.
Wait, so, Rocky commented on Selena's sex life and then called her "brave"? Oh, OK, got it.  That TOTALLY makes up for his previous comment.
Selena seemed to brush it off, though. She told GQ,
Well, I mean, I don't know. I just think that's kind of who he is. And I mean, I made him feel like he has a right to kind of have his own opinion. What am I going to say?
Selena and Rocky collaborated on her hit song, "Good For You," so it seems pretty disrespectful for the rapper to come forward and speak up about her personal life like this. Selena also told the magazine,
I've had worse things said about me.
YO, SELENA, LEMME AT HIM.
GQ then asked Selena if she was bothered by him taking credit for "what's risky" in the song. Selena explained,
Well, I don't think people really look at it that way. I don't know. My label didn't want it to be the first single. It was kind of a little bit more of a risk, and he mentioned that when I sent him the track. It was like, 'At least you're f*cking doing it. That's cool.' I think that was literally verbatim. He was like, 'This is cool that she's actually doing it.'
According to the interview, Selena claims Rocky was responsible for restructuring and rewriting the song. It became number five on the Billboard Hot 100, and not only put Selena in the top five for the first time but also Rocky.
Regardless of the song's success and who played a greater part in the process, I think it's best we leave Selena's sex life out of it. What happens with the JB, stays with the JB. Got it?
Citations: Selena Gomez Talks Justin Bieber (GQ)