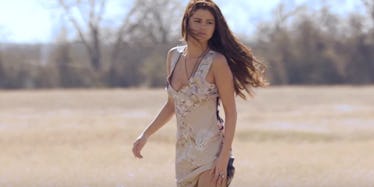 This Behind-The-Scenes Video Of Selena Gomez's Photo Shoot Is Super Sexy
YouTube
If you think for one second Selena Gomez has never spent a casual weekend at a remote cabin in a series of designer bathing suits, you have another thing comin'.
Sometimes a pop star needs a day away from the glamour, the madness and the flashing lights to let her hair down and reconnect with nature.
On Selena's trip, did she walk in slow motion among the amber waves of grain? You bet your sweet ass she did.
Did she sun herself on a rustic dock? Uh huh, oh yeah. Yes.
Did she seek shade in the doorframe of an old, abandoned trailer? Oh boy, did she.
Was GQ's staff on hand, capturing flawless photos and stepping in for last-minute touch ups? Well… yeah, duh.
THERE'S NO POINT IN LOOKING THIS GOOD IF SHE'S NOT GOING TO DOCUMENT IT.
When Selena is an elderly women whose memories of fame and worldwide adoration lull her to sleep each night, she'll look back on this issue of GQ and think to herself,
I really rocked the sh*t out of that transparent sweater.
You really did, girlfriend. You really did.