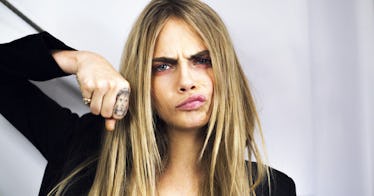 Selena Gomez Addresses Those Rumors About Her Dating Cara Delevingne
Getty Images
Selena Gomez may be straight, but her fave pastimes include being romantically linked to her besties and dancing like no one's freaking watching.
In an interview with PrideSource, Gomez addressed rumors that spun after a series of extra-friendly bathing suit photos surfaced of her and bisexual model pal Cara Delevingne.
Of the wild stories claiming the pair were lovers, Gomez said,
I didn't mind it. Especially because they weren't talking about other people in my life for once… [Cara is] incredible and very open and she just makes me open. She's so fun and she's just extremely adventurous, and sometimes I just want that in my life, so I didn't mind it. I loved it.
Even if she didn't date Delevingne, Gomez did not mean she has never questioned her own sexuality.
She claimed,
I think everybody does, no matter who they are. I do, yeah, of course. Absolutely. I think it's healthy to gain a perspective on who you are deep down, question yourself and challenge yourself; it's important to do that.
Gomez insisted she was aware of her largely gay following and vowed she considered all of her fans when creating her new album Revival.
The actress said,
I spent a year on it and I poured everything I had into this album, and I was thinking of everyone. I was thinking of my diehard fans from everywhere.
The "Good For You" singer was especially vocal regarding her support of ex Nick Jonas' relationship to the gay community.
She gushed,
I was like, 'Thank you.' It was kind of incredible for somebody to step out of their zone for a minute… to not really be in a judgmental place and to really let down all of your guards. I just think you have to really let go, and you do have to find this in your heart. He clearly has had a love and compassion for everyone, and I think that's great.
The proud ally also dismissed claims she was pregnant for the estimated 16th time.
Sorry, Gomez-baby hopefuls. Your girl's busy.
Citations: Q&A: Selena Gomez On Gay Boyfriends, 'Loving' Those Lesbian Rumors & Nick Jonas' 'Love For Everyone' (PrideSource), Selena Gomez Talks About Those Cara Delevingne Hookup Rumors (Cosmopolitan)