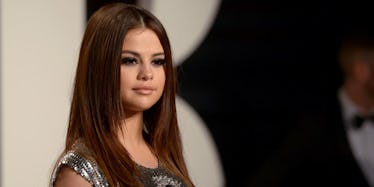 Selena Gomez Shows Some Serious Skin In This Super Sexy Instagram
Stewart Cook/REX/Shutterstock
Selena Gomez is gearing up to start her Revival tour, and she knows there's no better way to do that than by uploading a slightly risqué picture of herself.
On Monday, the 23-year-old singer posted the following photo to her Instagram.
Selena captioned the photo,
Behind the scenes of @revivaltour //tour content
So, I'm guessing this is from a video that's going to be a part of her tour?
Either that or Selena's pre-concert ritual involves her hanging out topless backstage.
Seriously, what is going on in this photo? Yes, she's not wearing a shirt, and, yes, she's very beautiful, but like, what's the CONTEXT?
What is she leaning against? Is that glitter on her skin? What is she laughing at? Did someone tell a funny joke? I wanna hear the joke, dammit!
The tour begins May 6 in Las Vegas, Nevada at Mandalay Bay Events Center. I can't wait to find out what the heck this all means.