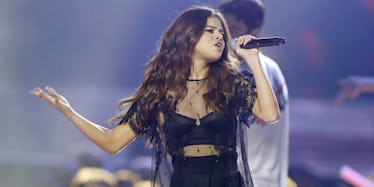 Selena Gomez Reveals The Food She Can't Live Without While She's On Tour
REUTERS
I've never felt more in touch with Selena Gomez as I do right now.
Gomez's Revival tour is set to kick off on Friday, and Entertainment Weekly wants to bring you all the relevant information you need to prepare yourself for this major event. What songs is she singing? How many costume changes is she having? Hints on special guests?!?!?
Who are we f*cking kidding? You don't wanna know all that stuff. You know whatever she does on stage will be IMMACULATE. She's Selena Gomez, 2016's answer to The Beatles. It's gonna be a damn visual spectacle, and you'll probably cry.
The only real unique piece of information you need to know about the tour is this lil' tidbit she told reporters. She said,
[On my tour rider] I used to have chicken pot pie, Hot Cheetos, Gatorade, Red Bull if I needed a pep in my step. But nope, I can't do that. I've got to be a little more conscious. My trainer won't let me eat [junk] but I can still have my pot pies. Just not every day.
Oh my God, Selena Gomez is the weirdest frat dude of all time. Chicken pot pie, Hot Cheetos and Gatorade? WTF diet is that? WAIT! IS SELENA GOMEZ PREGNANT? That's the most pregnant-cravings list of foods you will ever read.
You heard it here first! Selena Gomez is either a frat dude or pregnant!
Citations: Selena Gomez breaks down her Revival Tour setlist and reveals her tour essentials (Entertainment Weekly)