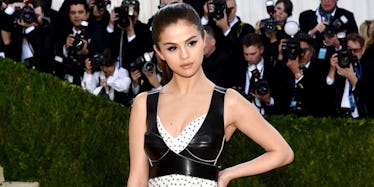 Selena Gomez Posted A Cryptic Instagram About Rethinking Her Life
REX/Shutterstock
Selena Gomez may have celebrated her 24th birthday on Friday, but an Instagram post on Saturday didn't really paint a picture of happiness.
Instead of posting a photo with a caption along the lines of what most fans would expect -- a few words thanking everyone for the birthday wishes or expressing some form of gratitude, for instance -- Gomez sent out a cryptic note about feeling "unconnected."
Here's what she had to say:
Gomez seems to have sent out the post from Indonesia, where she's been performing as part of her Revival Tour.
Earlier, she shared a video on Snapchat from Jakarta, the capital of the southeast Asian country, saying that she was "happy and excited" to be there.
And it's worth noting that she did, indeed, show appreciation for her time there, calling the Indonesian fans "inspiring" in her caption on Saturday.
But going back to the contents of that post, the timing of it seems even more strange then the actual post itself.
Gomez seemed to have a lot to celebrate: her birthday, a world tour and the upcoming release of a new song, which she shared a preview of on Twitter earlier on Saturday.
If she really is feeling down or unfulfilled, it just goes to show it's never easy to assume what a person is feeling inside.