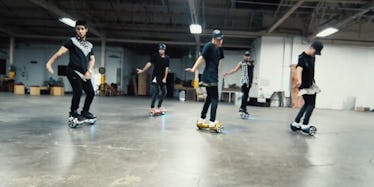 This Segway Dance Cover Of Bieber's 'What Do You Mean?' Is Incredible (Video)
By now, you've probably seen several different covers and remixes of "What Do You Mean?" by Justin Bieber.  Well, I can guarantee you haven't seen anything quite like this.
In the video above, you can see the world's first premium conceptual Segway dance routine to "What Do You Mean?"
DANCING ON SEGWAYS? Yes, it really is just as crazy as it sounds.
The video is directed, choreographed, edited and filmed by David Moore. It's totally insane to watch, and it'll make you want to get up an dance along.
Warning: It'll also make you want to buy your own Segway. Seriously, I'm looking them up on Amazon right now...
CHECK IT OUT NOW.