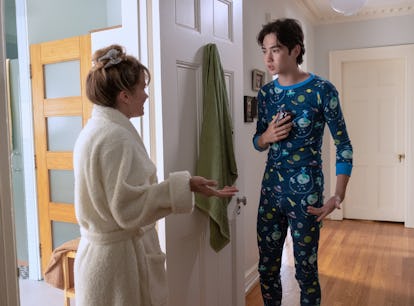 Sean Kaufman & Rain Spencer Are The True MVPs Of TSITP Season 2
Team Staylor all the way.
Erika Doss/Prime Video
Spoiler alert: This story discusses events in Season 2, Episode 5 of The Summer I Turned Pretty. Everyone may be talking about Team Conrad or Team Jeremiah, but there's a third ship setting sail on The Summer I Turned Pretty Season 2 that fans can't help but to root for: Steven and Taylor. Of course, nothing is ever smooth sailing in Cousins Beach, and while Steven's Season 1 love interest Shayla may be out of the picture this summer, Taylor has a new beau, Milo. However, Rain Spencer (Taylor) tells Elite Daily in a joint interview with Sean Kaufman (Steven) that the door's still open when it comes to Staylor.
Both Steven and Taylor play minor roles in The Summer I Turned Pretty book series, but have been upgraded to main characters for the Prime Video series. This gives fans a chance to see more of their story unfold on screen — and it's all new territory. It also means even more flirty banter between Taylor and Steven this season, which seems to come second nature to Kaufman and Spencer as they bickered over which Fisher brother they think would be right for Belly.
Below, Kaufman and Spencer also share what it was like working with creator Jenny Han and which musical artist they want fans to associate with Steven and Taylor.
Editor's Note: This interview took place prior to the SAG-AFTRA strike.
Elite Daily: One of the best surprises for fans of the books was to see Steven and Taylor have bigger roles on the show. What was your reaction to the fans after Season 1?
Sean Kaufman: I don't know if all the fan reactions even feel real now, let alone when The Summer I Turned Pretty first came out. There are some very, very diehard fans, and it has been incredible to see the overwhelming support. I can't tell you the number of people who have come up to me on the street and been like, "Hey, your show means the world to me. Thank you." Just to know that we could have that kind of impact in general is something I can't wrap my head around.
Rain Spencer: Jenny Han brought in her fandom with her — all of these people that she's helped practically raised with her books. It's generations of people, and so to be a part of it has been mind-blowing. I'm just so grateful to know her and go on this journey.
ED: Now that Shayla won't be back, there's room for Steven and Taylor's love story to blossom. At the end of Season 1, did you know that there would be a possibility for Taylor in Season 2?
RS: Anything's a possibility, but I didn't know before reading the script.
SK: There's a fantasy of Season 1 — the fantasy of Cousins, the fantasy of the beach house, the fantasy of Susannah. And in Season 2, it kind of comes all crashing down and makes everybody take a look around and realize who's there. Steven does a lot of reflecting to understand that Taylor's been there for him before this fantasy was ever a thing. And now when this family and the Fishers are at their lowest, she's still there. I don't know if I saw it coming, but it certainly was a welcome surprise.
ED: Since there's more Taylor and Steven time in this show this season, did you get to have any input with Jenny Han about what your characters would be doing?
SK: The wonderful writing room and Jenny had everything mapped out for the season, and for the most part, it was pretty set in stone before we got anything. But, Jenny's open to a lot of discussion. If I don't feel comfortable about a line or if I have a question about a scene, she's always on set and she's always very willing to talk about it.
RS: I think the beautiful thing about Jenny is that she's there every day. She's really making wardrobe decisions, and every single detail of the show has Jenny's approval, which is amazing. The fans would want that, and that's the case. She's so good about understanding where every single character is coming from, their intentions, their motives, and what's holding them back. She has a really clear picture of every character in the world. So, having conversations about where things are coming from with Taylor, or why things are the way that they are, was super beneficial.
ED: Your characters on the show make it very obvious which team they're on, but in real life, are you Team Conrad or Team Jeremiah?
RS: If I can't say Team Belly and I had to choose, I'd still be Team Jeremiah.
SK: Fair. You guys are going to hate me. Rain's being a good sport about it, but I'm a big brother, man. I got to always watch out for my little sis, and I'm always going to be Team Belly. I want her to be happy, because I want my sister to be happy.
RS: You're breaking the rules.
SK: Rules are meant to be broken.
ED: I'll take Team Belly. That's fine.
RS: All right, then change mine to Team Belly.
SK: No, no, no, no. You can't change yours. That's not fair. You can keep mine, but you can't change hers.
ED: In the show, Belly and Conrad scenes have a lot of Taylor Swift songs with them, so fans have said that they're Taylor Swift-coded. What artist would you want to be tied to Taylor and Steven's scenes?
RS: The slow dance song — "Moon River" by Frank Ocean — is so good. That's my favorite.
SK: Rain, I would love to be put with you and Frank Ocean for the rest of my life.
RS: That'd be awesome.
SK: If every time we acted Frank Ocean played, I'd be happy. I'd be happy if we just continued acting together, by the way, just to let the record show.
RS: Me too.
This interview has been edited and condensed for clarity.