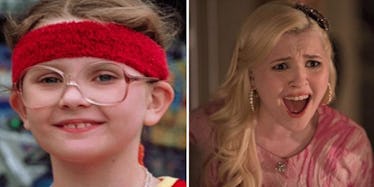 Here's What The Cast of 'Scream Queens' Was Doing 10 Years Ago (Photos)
Fox Searchlight Pictures/FOX
I'm sure you're aware "Scream Queens" is literally destroying lives because it's the most addicting show on the planet.
Whether you love it or hate it, you're probably drawn to your TV screen every Tuesday night to indulge in its weekly episodes.
It's the perfect blend of humor and horror, plus random characters get murdered off the show every 10 minutes. What more could you possibly want?
Not to mention, the cast is STACKED with celebrities. You know you lost your sh*t when the Red Devil got Ariana Grande because, well, IT'S ARIANA GRANDE. El oh el.
It's crazy to think about how far these celebrities have come. Like, what the hell did they do before "Scream Queens"? Did life even exist?
I'd like to look back at what the cast of "Scream Queens" was doing approximately 10 years ago... give or take two years. (Look, I'm sorry, 2005 wasn't a crazy year for everyone, CUT ME SOME SLACK).
It'll be a fun trip down memory lane, so get ready for some throwbacks.
Skyler Samuels (Grace Gardener)
Skyler Samuels starred in the "Little Diva" episode of "Drake and Josh" in 2004. Remember Ashley Blake, that super obnoxious famous girl who dropped a bucket on her head and got knocked out for hours? YEAH, THAT WAS SKYLER.
I guess this was before she wanted to rush greek life and go to a school with a serial killer on the loose.
Emma Roberts (Chanel Oberlin)
Way back when, Emma Roberts starred as Addie Singer on "Unfabulous." Her life consisted of trying to survive junior high, writing love songs about Jake Behari and hanging out at a smoothie shop after school.
This was DEF Emma Roberts' prime. She was just so innocent. Addie Singer would NEVER burn Ms. Bean's face off (uhhhh, right???).
Keke Palmer (Zayday)
Man, it feels like yesterday Keke was just tryna win the spelling bee. In 2006, Keke starred in "Akeelah and the Bee" and played 11-year-old Akeelah who had a big-ass dream of winning the spelling competition. The girl just loved words, OK?
I wonder if Akeelah sleeps with a chainsaw underneath her bed, too...
Abigail Breslin (Chanel #5)
Before her days of Kappa Kappa Tau, Abigail had her eye on winning the Little Miss Sunshine Pageant. In 2006, she played the quirky and adorable Olive in "Little Miss Sunshine." Just look at how cute she was.
Do Olive and Chanel #5 even look related? Lol, no.
Lea Michele (Hester)
OK so Lea 10 years ago looks identical to Lea today. Girl hasn't aged a bit. In 2006, she starred in the Broadway production "Spring Awakening" at the age of 20. She was always super musical and that's what led her to become Rachel Berry in "Glee."
The only question I have is, when the heck is Hester going to sing? Come on, Lea. We're ready for a "Scream Queens" musical number. Maybe I shouldn't speak for everyone...
In the clip above, you can listen to Lea Michele perform "Mamma Who Bore Me" from "Spring Awakening" live at The Drama Desk Awards in 2007.
Jamie Lee Curtis (Dean Cathy Munsch)
Dean Munsch is a twisted, twisted woman. She must have had something traumatic happen to her when she was younger, like maybe she ate a fortune cookie and switched bodies with her teenage daughter, IDK.
In 2003, Jamie Lee Curtis played Tess in "Freaky Friday" and rocked our goddam world. CAN YOU BELIEVE THIS WAS OVER 10 YEARS AGO?
Nick Jonas (Boone)
Wow, puberty really is a beautiful thing. Yes, that is Nick Jonas on the right. Ten years ago he was just a lil baby. In 2006, the Jonas Brothers released their first studio album "It's About Time," and the lives of prepubescent girls were changed forever.
Nick has come a long way in terms of his body... of work. Boone baby, please wake up from the dead and come back to us. THANKS.
Ariana Grande (Chanel #2)
Alright, Grande is only 8 years old in this video but whatever, that's close enough. She's 22 years old now, so this was 14 years ago.
Anyway, she made her TV debut by singing "The Star-Spangled Banner" for the Florida Panthers. The next day it was just BOOM, stardom. That's all I really have to say.
Check out the video above to relive this glorious moment.
Diego Boneta (Pete Diller)
Oh hello, Diego. Looking handsome as always. Exactly 10 years ago (yes, this one was spot on), Diego released his debut album Diego in Mexico, Chile and Brazil. It was released in the United States shortly after, but Diego's career as a singer took off after that.
Not only is he ridiculously handsome, he's musically talented AND a great actor. Wow, he really is the total package. Let's hope he's not the killer or else that would just ruin everything.
Oliver Hudson (Wes Gardener, Grace's Dad)
Real quick, can we just talk about how Wes is a total DILF? Like WOW, I see why Dean Munsch is after him. Damn.
Anyway, Oliver Hudson played Eddie Doling, Joey's love interest on "Dawson's Creek" in 2002-2003. Their relationship was super steamy, minus the parts when Eddie left her (which would uh, happen often). They were an interesting couple to watch, that's for sure.
But TBH, Oliver could be dating a rock and I'd still be interested in watching him.
Nasim Pedrad (Gigi)
Nasim was apparently a waitress on "Gilmore Girls" in 2006. Who knew?
Owen Powell (Chad)
Owen played the Long Fingered Kid in "Spy Kids 3: Game Over." He clearly has come a long way since this shining moment.
Niecy Nash (Denise)
Niecy is probably best known for her 2007 role as Deputy Raineesha Williams on "Reno 911!: Miami." It looks like she has had lots of experience with, you know, protecting people.
I wonder if she's ever come across anything as scary as a Red Devil murderer before. Honestly, it wouldn't surprise me. Either way, looks like she's always been a bo$$.