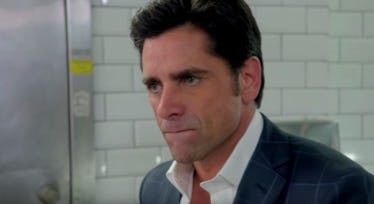 It's Official: John Stamos Is The Hottest Grandpa To Ever F*cking Exist (Photos)
FOX
The new sitcom "Grandfathered," starring John Stamos and Josh Peck, premiered last night on FOX. Stamos plays Jimmy, a narcissistic bachelor whose restaurant is losing business. About two minutes into the first episode, his long-lost son appears (played by Josh Peck) with his daughter Edie, making Jimmy a grandfather.
The show's premiere definitely had some very funny and adorable moments. It was enjoyable to watch, and Edie was just so freaking cute. But listen, there's one thing we really need to talk about. JOHN STAMOS IS A GILF. Yes, that means exactly what you think it does. Here's proof.
The episode opens with Jimmy right there, close-up, staring deeply into your eyes. Not even two seconds in and you're like, "OK, yeah, let's do this."
At this moment, you don't even know he's a grandpa. The only thing certain is he's a beautiful man who may or may not be half a century old. But um, if I didn't just Google his age, I would have guessed mid-30s. Heck, 20s. It just feels like I'm watching Uncle Jesse on "Full House." Have mercy.
Then we get to see him in his element, wooing the customers with his charm... also, please take note of that slightly unbuttoned shirt.
That lady definitely collapsed on the floor after this. Look at all those people in the restaurant pretending to act casual, secretly knowing they are in the presence of a God.  Look at Jimmy's suit. Look at his shoulders. And holy sweet Jesus, look at that glorious head of hair.
Shortly after, his son arrives and drops the BOMB. Jimmy is all like, "sh*t" but still looks DADDY AF.
At this point, we are all chanting "DILF, DILF, DILF" in our heads (or loudly at our television screens) because JIMMY HAS A KID NOW. Hello, daddy.
BUT THEN, YES, WE FIND OUT HE IS A GRANDFATHER AND HE GENTLY BITES HIS LIP LIKE THIS.
How is it even possible for a grandfather to be so damn attractive? Can we talk about that jawline? It's all about the jawline.
And can we talk about that SMILEEEEEEEEE.
It's also all about the smile.
Look at him kissing this baby.
How precious is this? YOU ARE THE CUTEST, JIMMY.
And uh, real quick. LOOK AT THAT BODY.
No, REALLY. LOOK.
John Stamos has literally changed the game. He is by far the hottest grandpa I've ever seen, so I will be tuning in every Tuesday to make sure I see him on "Grandfathered." He may not be Uncle Jesse The Rockstar anymore, but now he's "Jimmy the GILF" and I'm totally fine with that.