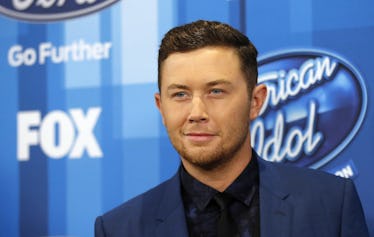 'American Idol' Winner Scotty McCreery Opens Up About His Love Life And Future
REUTERS
Now that "American Idol" is over, I'm not quite sure how to spend my Wednesday nights.
The TV show went strong for a full 15 seasons, but unfortunately America's favorite singing competition has come to an end.
Several of the winners -- and even the top 24 contestants -- have done some big things since their time on the show.
Kelly Clarkson and Carrie Underwood have become some of the biggest names in Hollywood, Jennifer Hudson and Katharine McPhee have pursued their dreams of becoming actresses, and the most recent winners are working on releasing studio albums.
One of my personal favorite contestants, Scotty McCreery, took a big step with his career as well. McCreery won season 10 back in 2011. At just 17 years old, he became the show's youngest male winner.
Perhaps you remember when he blew away Jennifer Lopez, Randy Jackson and Steven Tyler with his audition. Check out the clip below to help jog your memory.
Isn't he precious? AND THAT VOICE. Holy cow.
Since his time on the show, McCreery has taken the country music world by storm, selling over 2.5 million albums. Check out one of his most recent songs, "Southern Belle," in the video below.
Elite Daily had the chance to sit down with Scotty McCreery to discuss what he's been up to since "American Idol" and what fans can expect from him next.
Scotty opened up about his new book, "Go Big or Go Home: The Journey Toward the Dream." It took him a year to write it from start to finish, so he's pretty proud to have it finally hit the shelves.
In the book, Scotty shares his story of auditioning for a singing competition at 16 years old. Scotty was just a southern boy from Garner, North Carolina and had no idea where this path would lead him.
Scotty was always a competitive kid -- his favorite sport was baseball and he aspired to be just like Elvis. He always had big dreams, and he always did whatever he could to make those dreams a reality. He loved to win, and perhaps it's that competitive drive that pushed him to win it all on "American Idol."
In "Go Big or Go Home," Scotty also discusses the role of faith, the impact of his friends and family, his travel experiences and the incredible journey of going from a small-town boy to one of music's biggest country artists.
Scotty also gave us the inside scoop on his love life so, ladies, listen up.
The 22-year-old spoke a bit about his relationship with girlfriend Gabi who he met in Kindergarten. They grew up together but started to get serious a few years ago. Scotty actually just got back from attending her college graduation, which is just as adorable as it sounds.
He retold their ~love story~ in the photo's caption,
Me and this gal went to elementary, middle, and high school together. We both grew up NC State fans, but in 2012, I went off to NC State, and she went off to UNC-CH. The next 4 years she worked tirelessly at school in Chapel Hill, pursuing her dream of becoming a pediatric nurse. I am so proud of her today as all of her hard work has paid off, and she is now a college graduate! If you know anything about me, you know wearing that shade of blue in chapel hill is something I would normally only do if I lost a bet.. But I was proud to wear it today in support of her graduating from the school of nursing at UNC-CH. I can't wait to see what the future holds for her, but one thing is for certain, she's going to be a great nurse! Congrats Gabi! #ShesStillAPackFan #ThatsMyGirl
I guess in addition to being a top musical artist, Scotty's an incredible boyfriend as well.
Congrats on all your accomplishments, Scotty. We can't wait to see what music you come out with next.