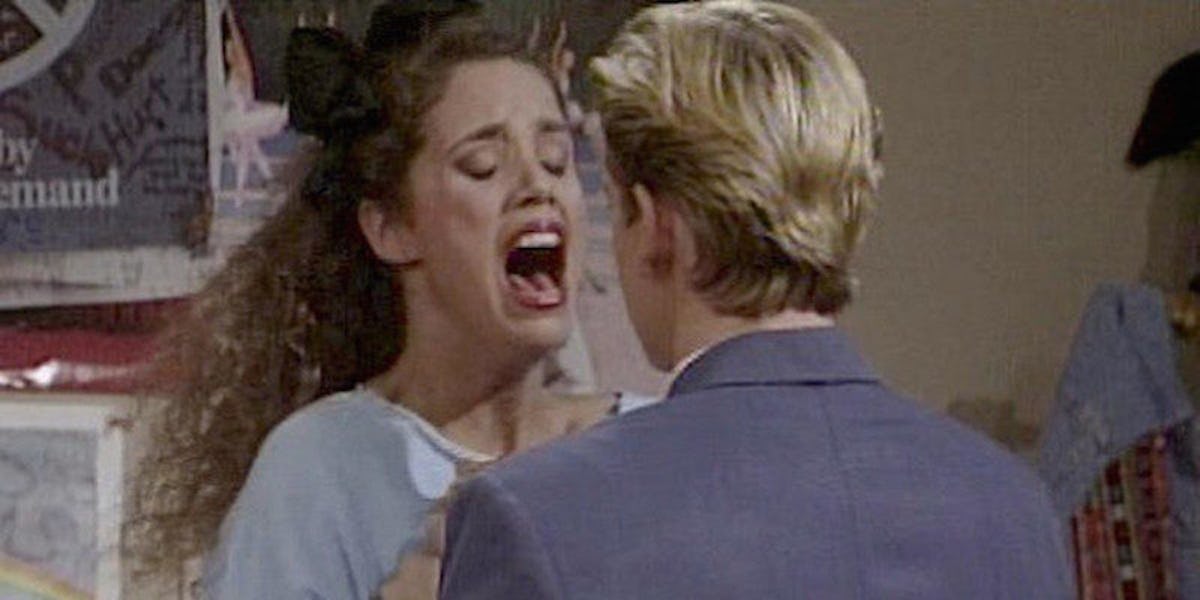 'Saved By The Bell' Producer Reveals Backstory Of Jessie's Caffeine Pill Episode
NBC
It's about damn time we got some closure on Jessie Spano's "I'M SOOO EXCITED!" freakout.
"Saved by The Bell" was not a serious show. It was a comedy with light soap opera moments that will forever be viewed as a 90s pop culture staple, but it was not ever meant to be taken seriously.
That didn't stop the writers from trying to occasionally teach us a lesson.
There were a handful of after school special moments during the series that covered the standard range of slightly-above PG-13 topics that most shows of that genre tend to cover. Drugs, pollution, how to treat people with disabilities and a bunch of other subjects had their own "very special" episodes that left audiences wondering what they just watched more than anything else.
YOU TRY TAKING THIS CAST SERIOUSLY.
The single most famous one of these is without a question Jessie Spano's caffeine pill addiction breakdown.
If you've never seen it, brace yourselves. It's game changing.
The show's executive producer Peter Engel recently released his memoir, and thankfully it addressed whatever the hell was going on in that scene.
In it he wrote,
What fans don't know is that, when I originally wrote the episode with Tom Tenowich, Jessie was hooked on speed, not caffeine pills. But Standards and Practices, the censorial department at NBC, vetoed it saying speed was too serious for Saturday mornings.
Peter went on to explain that he didn't want to scrap the story all together because he thought it was important for the show to deal with issues like drug use in high school and the tremendous amount of pressure students tend to put on themselves.
The compromise was to change Jessie's addiction from speed to caffeine. Because, you know, the two are interchangeable.
He explains,
So we compromised. We kept the episode virtually the same, but swapped out the speed. I wasn't pleased about it ― after all, the average caffeine pill, was the equivalent of a cup of coffee, so we might as well have had Jessie get addicted to Earl Gray, or breaking into The Max to snort coffee grounds. But hey, we had to start somewhere.
Engel recalls that at the episode taping the audience was in tears, a slightly different response than what the internet thinks about the clip today.
Now, can we maybe address how Zack has the ability to stop time?
Citations: Saved By The Bell Producer Spills Secrets In New Memoir (Huffington Post)