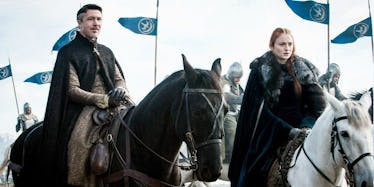 Sophie Turner Reveals Spoiler About Sansa Stark's Fate In 'Game Of Thrones'
"Game of Thrones" spoilers are coming, y'all!
WARNING: MAJOR SPOILERS AHEAD!!!
At the beginning of February, I told you about two recently released leaked images that reportedly depict the final scene from the season seven finale of "Game of Thrones."
The above image is reportedly a shot of Jon Snow being led into the Dragonpit, a ruin near King's Landing, by Tyrion Lannister and Bronn.
In addition to those three characters, it appears Cersei, Daenerys Targaryen, Ser Jorah, Varys, Missandei, Qyburn and The Mountain are all present in this final scene in the season seven finale of "Game of Thrones."
Why?
Well, these friends and foes are reportedly all together at the end of season seven of "Game of Thrones" to bear witness to the proof of the impending White Walker invasion!
Hold on, though, kids, because it appears the spoilers are flying thick and fast!
According to reports, actress Sophie Turner, who plays Sansa Stark on "Game of Thrones," spoke to HeyUGuys while attending the British Academy Film Awards Sunday night, and she revealed a very interesting spoiler about her character.
Speaking on Sansa Stark's future in Westeros, as you can hear in the video above, Sophie Turner said,
We're about to start shooting the next 'X-Men,' we've just finished shooting season seven of '[Game of] Thrones,' and I've got a couple of movies to do before 'X-Men' starts. And then we go on to season eight.
Now, at first glance, you may not even catch the "GoT" spoiler in Turner's statement, but take a look at that second sentence.
In just eight words, the 20-year-old actress appeared to confirm Sansa Stark will be a part of season eight, which means she's probably going to spend season seven managing to avoid near-death experiences all over again.
Sure, Sophie Turner also spoke about being in the next "X-Men" movie, but is that really what we came for?
Keep the "Game of Thrones" spoilers coming!
Citations: Sophie Turner May Have Accidentally Revealed A Small 'Game Of Thrones' Spoiler, Confirms A New X-Men Movie (BroBible)