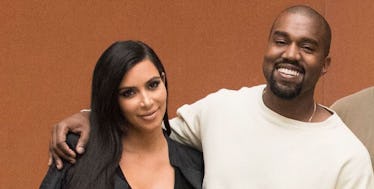 These New Pictures Of Saint West Confirm Kimye Made The World's Cutest Baby
REX/Shutterstock
Saint West is finally a real human, you guys!
Kanye West and Kim Kardashian's baby boy has stayed out of the public eye since (basically) birth, but now Saint is coming into the spotlight.
MOVE OVER, NORTH. There's a new kid in town.
Photos of Saint West were taken during a family trip to visit Grandma MJ for her birthday celebration.
It looks like he had a great day with Mama Kim, Grandma Kris and Great Grandma MJ. The ladies love you, bro!
Below, check out some of the latest pics of Kimye's baby boy.
HEY, SAINT WEST! Thanks for proving you're a real person and not just a doll.
Saint west is so handsome his skin complexion is so beautiful pic.twitter.com/X0uugylZWC — Ã (@YEEZYSOULED) July 27, 2016
I don't even recognize him with his eyes open.
Saint West today! (July 26) pic.twitter.com/LQfl3P6ugB — Kim Kardashian West (@KimKLegion) July 27, 2016
OK but for real, isn't he the cutest kid in the world?!
SAINT WEST. pic.twitter.com/C4fiblPxRN — KimKanyeKimYe (@KimKanyeKimYeFC) July 27, 2016
HE IS JUST SO LITTLE AND PERFECT, I CAN'T TAKE IT!!!!!!!
Saint West is a vision in camo https://t.co/baWMYKl6Wz pic.twitter.com/UvNfG0FEwq — Page Six (@PageSix) July 27, 2016
Kimye, thanks for taking your son out of the dungeon and letting him see daylight. Hopefully he stays above ground from here on out!!!
Just kidding...sort of.
Citations: Saint West New Pics With Kim Kardashian (NY Mag)