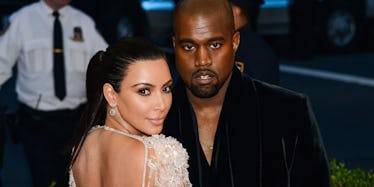 Saint West Just Appeared On Kim Kardashian's Snapchat Like A Total Boss
Shutterstock
Queen of Snapchat Kim Kardashian just gave us a major surprise this afternoon.
By major, I mean actual cuteness overload… so prepare yourselves because this is pretty big news.
We all know Kim Kardashian is totally about documenting her life through pictures, but it's a rarity for us to see Baby Saint make a public appearance, even on Snapchat.
We reported earlier there's concrete evidence Kimye made the most adorable baby in the entire world. THERE'S LITERALLY PHOTOGRAPHIC PROOF!
Kim Kardashian got on Snapchat to unleash the cuteness on the entire world.
Here's our little man casually slaying it in a stroller for the world to see. You're legit crushing it, Saint West.
Literally, a total boss in front of the camera.
Saint West just made an appearance on Kim Kardashian's Snapchat
His face is just so dang adorable.
I think all of us Saint West fans out there can agree this little guy seriously needs to grace us with his presence more often, am I right?
You keep doing you, Saint, and don't ever change.
Citations: Saint West giggles in stroller day after North gives a goofy grin (Daily Mail)