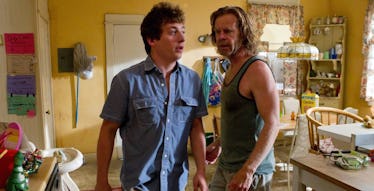 The 8 Biggest Snubs Of This Year's SAG Awards Nominations
Showtime
On January 30, the 2016 Screen Actor's Guild Awards will air on TBS and TNT.
Some of your favorite TV shows and films, such as "The Revenant," "Modern Family," "Orange is the New Black" and "Straight Outta Compton" all received nominations and hope to win the statue voted on by their peers.
There are some nominations, such as Sarah Silverman for her brilliant role in "I Smile Back," and William H. Macy for "Shameless," that were overlooked at this year's Golden Globes and Oscars.
But, of course, some of your favorites have been overlooked again.
There are performances, specifically across television, that every award show seemingly misses or chooses to just gloss over.
There are tons of shows out there between network television, premium channels and streaming services, but so many stellar performances get passed up in favor of more popular or recognizable roles.
Here are just a few shows and performances that are missing from this (and almost every) year's awards season.
1. "Orphan Black"
If sci-fi is your thing, this is your show.
This BBC America original about clones and finding out the true purpose of their creation is astounding. It makes sci-fi accessible in a way that few other shows can do.
The premise doesn't seem appealing but once you start, you seriously can't stop. It's addicting in its mystery and intrigue and Tatiana Maslany does an unbelievable job as the multiple clones.
Her performance, as well as the show itself, have scarcely been recognized, but certainly deserve to be.
2. Clive Owen in "The Knick"
Look, Clive Owen is spectacular. If you're not familiar with his work, that's a travesty that you need to fix immediately.
Perhaps you should start with this Cinemax original.
Did I lose you just then? Don't be fooled.
Even though it's a soft core channel, it's turned out some quality shows such as this one.
Not only is the show's writer, Steven Soderbergh, fantastic, but Clive Owen shines as the drug addicted surgeon who starts to go a little nuts.
It irks me that this is overlooked because it's so good.
3. "It's Always Sunny in Philadelphia"
OK, so this is a bit of a long shot, but seriously? Eleven seasons deep, and this show always gets overlooked.
Perhaps it's because it's a cult favorite and there is really no plot, but it's consistently funny and has never really repeated a story, unless it was part of a running gag.
It's underrated for its comedic power, and it makes me sad that it's literally overshadowed at all times.
4. "Shameless"
Sure, William H. Macy is nominated for his turn as a drug-addicted, alcoholic, somehow-survives-everything cockroach of a dad, but he's also William H. Macy, veteran actor.
Now in its sixth season on Showtime, the show boasts amazing performances by Emmy Rossum, Jeremy Allen White, Joan Cusack and everyone from the youngest Gallagher to the next door neighbors.
Although it's a "comedy," it has a great deal of drama and is refreshing in its lack of dazzle.
The show deserves a nomination not only here, but at other award shows as well.
5. "House of Lies"
Another Showtime original left out this year was "House of Lies."
Don Cheadle plays Marty Kaan, the head of a management consulting firm that frequently breaks the fourth wall and speaks directly to the audience.
It's a scathing look at the underbelly of a rarely written about cutthroat business that can be up one day and down and out the next.
The show also has incredible performances from the rest of Kaan's pod, including Kristen Bell (who had her pregnancy written into the last season in a big way), Ben Schwartz and Josh Lawson.
It's smart, it's funny, it's sexy and it's certainly not on this year's ballot.
6. "Flesh and Bone"
Look, I love a good miniseries.
Some would say I'm even obsessed with the succinct storytelling, but once you add ballet, I'm 100 percent in.
Neither the show nor the lead, ballerina Sarah Hay, were given nominations, which is almost bizarre as she was nominated for both the Golden Globe and the Critic's Choice award.
Perhaps she doesn't have her SAG card yet, but that doesn't take away from the show itself.
It was bold and dirty, and showed the true underbelly of a tight-lipped universe.
This is one that certainly should not have been tossed to the side.
7. Wagner Moura in "Narcos"
If you haven't seen this intense look into the life of Colombia's notorious drug lord Pablo Escobar and the DEA agents hellbent on putting his ass in jail, you're missing out.
Sure, Netflix is getting its say in this year's nominations with crowd favorites (and rightfully so) "House of Cards" and "Orange is the New Black," but Wagner's performance as the gangster kingpin was sensational.
Just his face alone told you what Pablo was feeling in that moment; one look could say he was happy and one could say, "well, that dude is seconds from being murdered."
He was truly incredible and it's his portrayal of Escobar that has me wondering how I'll make it until season two premieres.
8. Gael García Bernal in "Mozart in the Jungle"
Come on. The guy just won the Golden Globe for his New York maestro role, and you didn't think it was good enough for the SAGs?
Cold, man. Cold.
For someone who has been around for as long as Gael has -- in both foreign and American films -- it's surprising that his place on the Amazon Prime series goes unrecognized.
He is truly one of the most underrated actors, and I can only hope that this is remedied next year because he really plays a fantastic role.
Don't get me wrong, guys; I'm stoked that Idris Elba is getting his recognition for "Luther" and Queen Latifah is killing it over "Bessie," but this year's awards are lacking on some really incredible performances in favor of others that maybe weren't so great.
It almost feels like this year, and perhaps even years past, have been like a popular kid's game of kickball and all the most underrated stars are sitting on the bench.
I'll still be tuning in to this year's telecast, but know that I've got my eye on you, Hollywood.
You're overlooking far too much in favor of popularity and I'm unimpressed.
Let's make better choices next year. Thank you.