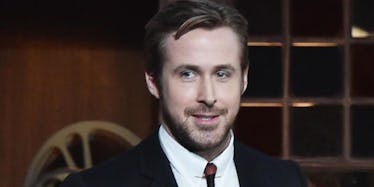 Ryan Gosling Just Saved A Dog That Was Stranded In The Middle Of The Road
Getty Images
When he's not dominating the silver screen, Ryan Gosling likes to spend his time being a real-life superhero.
In 2011, he broke up a street fight between two guys in New York, and the following year, he saved a woman from certain death when she attempted to cross the street in front of a speeding cab.
Most recently, Gosling used his superhero skills to save a pup in need.
While driving with baby mama Eva Mendes and daughter Esmeralda in Palm Springs, Gosling almost ran over a dog that had taken up residence in the middle of the street.
Instead of simply driving around the pooch, Gosling got out of his car, picked it up and carefully brought the pup over to his concerned owner on the side of the road.
Of course, as this is Ryan Gosling were talking about here, paparazzi were nearby to catch the heroic save in action.
Check out a pic of Gosling's latest superhero stunt below:
.@ryangosling saved a dog in the street while on a luxury getaway with @evamendes.https://t.co/PWFWNpSgW2 pic.twitter.com/hfKf9EXBjY — The Insider (@TheInsider) March 10, 2016
Citations: Real-Life Superhero Ryan Gosling Saves a Little Dog in the Middle of a Road (Complex)