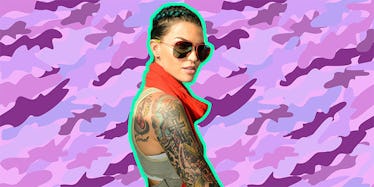 Ruby Rose Just Schooled Every Celeb Fighting Over Kimye-Taylor Swift Drama
REX/Shutterstock
WE SHOULD HAVE BEEN SENDING RUBY ROSE TO TRUMP RALLIES FOR MONTHS, PEOPLE, MONTHS.
The peace this "Orange Is the New Black" star is preaching in the wake of the Taylor Swift/Kayne West feud could unite a goddamn nation, and here it is being wasted on Hollywood.
A close friend of Taylor Swift, RR stands on the pop star's side of the "Famous"-gate issue, while Khloé Kardashian obviously supports her sister Kim and her brother-in-law Kanye.
On Wednesday morning, the 30-year-old composed and posted a mini sermon on tolerance and love on Twitter following media reports pitting her against Khloé.
Prior to posting this shining example of mature problem solving, Ruby did call out Khloé for posting what was intended to be a racy photo of Kardashian nemesis Chloë Grace Moretz.
The 19-year-old "Neighbors 2" actress weighed in on the "Famous"-gate drama with two tweets on Sunday night.
Khloé jumped on the tweets with a scathing response.
Chloë-with-a-C quickly exposed the second photo as a fake, but Koko's tweet remains undeleted.
@khloekardashian fact check: first photo is me filming my movie Neighbors 2, the second photo is some girl who was wrongfully photographed — Chloë Grace Moretz (@ChloeGMoretz) July 18, 2016
Ruby reached out to Khloé to let her know she'd crossed a line.
@ChloeGMoretz @0hbubbl3s @khloekardashian Yo Khloe I thought you were rad when I met you but this is awful and this is a 19 year old girl. — Ruby Rose (@RubyRose) July 18, 2016
Despite calling out the Kardashian who, let's be honest, did cross a line, Ruby maintains she doesn't feel any hatred toward the 32-year-old reality star.
That's love, people. If we let it, it will unite us all. Even the C/Khloés of the world.
Citations: http://perezhilton.com/2016-07-20-ruby-rose-khloe-kardashian-feud-denial-social-media/?from=post (Perez Hilton)