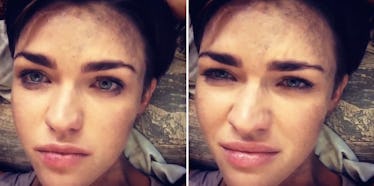 Ruby Rose Is Mad Because People Said Her Crying Video Was 'Acting'
Instagram
Ruby Rose just shared an emotional Instagram video of herself crying on camera. She hoped to share a powerful message with us in support of Mental Health Week.
However, the video was deleted soon after.
The photo's caption read,
It's mental health week. And today I felt like a cry. So I did ... Because it's important to feel your emotions and acknowledge them. Never be ashamed of your sensitivity. Listen to your heart and put Your self FIRST! And yes I guess now I know when I cry I do a funny thing with my nose.. Like dumbos ears but nostrils
Apparently, people thought the tears were fake and she was really just acting.
Ruby posted this Instagram in response to those comments.
She deleted this post as well.
She then followed up a second time by posting another Instagram.
It looks like Ruby is pretty upset over how her followers reacted. Hopefully, everyone can begin to take Mental Health Week more seriously.