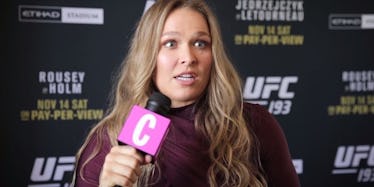 Ronda Rousey Says Justin Bieber Was Really Mean To Her Little Sister (Video)
Ronda Rousey, UFC's undefeated bantamweight champion, went to this year's Cannes Film Festival with her little sister, Julia.
Julia is 16 years old. All she wanted was to have a good time at the festival and take a single, innocent photo with America's sweetheart, Justin Bieber.
Ronda assumed it wouldn't be a problem for Justin to take a picture with her younger sister.
Apparently, Ronda was wrong. When she asked Justin for a photo, she said he gave her a pretty rude reply.
You can listen to Ronda talk about the encounter in the video above, but it's safe to say Ronda and Julia are no longer Beliebers.
Citations: Ronda Rousey: Justin Bieber Was "Really Rude" to My Little Sister (Cosmopolitan)