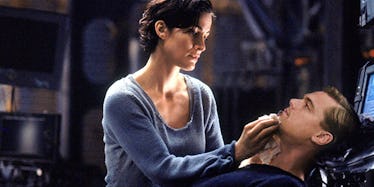 10 Movies You Didn't Know Leonardo DiCaprio Almost Starred In
Elite Daily
Oh, what could have been.
It may have taken sleeping in a dead horse and eating raw bison liver while crawling on frozen forest floors to kill Tom Hardy, but Leonardo DiCaprio finally took home an Oscar on Sunday night for his performance in "The Revenant."
America's golden boy was zero for five up until the 88th Academy Awards when Julianne Moore called his name, leading to a collective sigh of relief for literally everyone in America -- except for Eddie Redmayne.
Here's the thing: For as many movies as Leo's starred in over the years, he also had to turn a bunch down. And, at least one of the roles he declined ended up landing the actor who eventually played the part an Oscar.
In honor of Leo's first Oscar, we reimagined the posters for some of the bigger movies he passed on.
"Star Wars Episode II: Attack of the Clones"
Leo was supposedly up to play Anakin Skywalker in the second "Star Wars" movie.
"Spider-Man"
At one point, Leonardo was considered by studios to be the next web-slinger before Tobey Maguire took over the reigns.
"The Matrix"
Leo reportedly turned down the role of Neo because he was concerned over the amount of visual effects the movie required.
"Hocus Pocus"
The role of Max Dennison was reportedly originally offered to Leo.
"Inglourious Basterds"
Leo could have won an Oscar for his role as Colonel Landa, a role that instead went to Christoph Waltz.
"Boogie Nights"
Dirk Diggler could have been played by Leo, who instead decided to take his talents on the high seas and star in "Titanic."
"American Psycho"
Christian Bale took over in "American Psycho" for Leo, who had to drop out because of scheduling conflicts.
"Alexander the Great"
This movie never actually got made, but Leo was supposed to play a key role in it.
"Sin City"
Leo was apparently offered the role of Roark Junior, but he turned it down.
"American Splendor"
Paul Giamatti ended up securing the role of cartoonist Harvey Pekar, a part that was originally intended to feature Leo.
But none of these matter now!
Citations: Leonardo DiCaprio (notstarring.com)