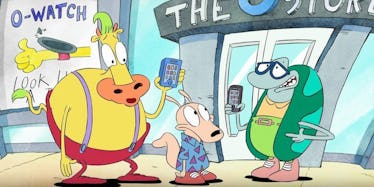 New 'Rocko's Modern Life' Special Will Be Just As Dirty As You Remember – EXCLUSIVE
Nickelodeon
Calling all '90s kids -- it's finally happening. Rocko's Modern Life is returning to TV with a one-hour special on Nickelodeon after being off the air for 20 years.
I sat down with two of the shows creators and stars, Tom Kenny (Heffer) and Doug Lawrence (Filburt) at Comic-Con San Diego and got the scoop on everything related to Rocko's Modern Life: Static Cling.
The special picks up right where original show left off, with the cast being blast off into space. They come back down to earth 20 years later to find literally everything has changed – there's smartphones, social media, and Buzzbucks galore (aka Starbucks).
Those of us who grew up with Rocko's Modern Life remember those tongue-in-cheek jokes, like Rocko becoming a sex phone operator. Or, the time when his doctor, Dr. Bendova (yes, really), squeezed his eyeballs during an exam and asked him to cough.
Most of my friends weren't even allowed to watch the show. I'm glad my parents didn't care about me enough that I was able to watch Rocko's Modern Life all the time and fall in love with the jokes, even if I didn't understand them.
While sitting with Kenny And Lawrence, I wanted to know if that same vein of comedy would still be intact with the new, "moderner" (Kenny's words, not mine) Rocko's Modern Life. After all, it's been 20 years... things have to be much more PC nowadays, especially for a children's show and for a network like Nickelodeon. But fear not, fans -- that dark comedy we all know and love is here to stay. Lawrence said,
With the network, we had to kind of make it clear that if we're gonna bother with this, we have to pick it up. We have to be able to joke the same kind of way we did back then, which is not necessarily how they make shows at Nickelodeon today. So, it was a little bit more [risky].
Kenny continued, saying,
In any other really good children's entertainment that we love, whether its Spongebob or Rocko (who was based on Gene Wilder from the original Willy Wonka movie), theres darkness in that stuff. Wizard of Oz, there's darkness in there and stuff that pushes it. There's always a bit of a battle but now it's even more of a pitched battle where anything that's just a little bit dark, or negative, satirical, or biting, immediately is seen as a problem. It's like sanding the rough edges off of everything.
It doesn't hurt that Kenny and Lawrence have a combined 40+ years of experience in the industry, with shows like Rocko, Spongebob Squarepants, and Adventure Time under their belt. "We're lucky because we've had shows like Rocko and Spongebob where we were allowed to do it," Lawrence says.
So, there you go. Rocko's Modern Life comes back 20 years later where everything has changed, but the comedy is still just as great as we '90s kids remember. Rocko's Modern Life: Static Cling is coming to Nickelodeon in 2018.