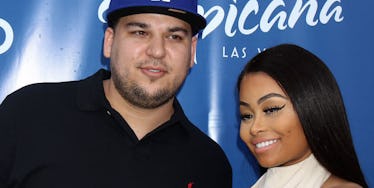 Hold Up: Rob Kardashian No Longer Follows Blac Chyna On Instagram
REX/Shutterstock
Earlier today, we reported Rob Kardashian wiped his Instagram clean of ALL photos featuring Blac Chyna.
While it's super weird for someone to delete every photo of a significant other from his or her Instagram feed, many people figured it may not be such a big deal.
Only, it is a big deal because these two are expecting a baby and plan on getting married.
Well, let's just say there's MORE proof things might not be going so well between Rob Kardashian and Blac Chyna.
First off, 29-year-old Rob Kardashian deleted all of his Instagram pics, including every single one of his fiancée Blac Chyna.
Then, he unfollowed Blac Chyna on Instagram but is still following 31 other accounts. Chyna is nowhere to be found on the list.
Keep in mind, this is his fiancée.
In March, rumors began swirling Rob Kardashian and Blac Chyna were headed toward a breakup after Rob deleted his Instagram photos in hopes of regaining some of his privacy from the media.
Rob explained himself in an Instagram post (that's since been deleted), saying,
Chy and I are not broken up we just feel like it would be a lot healthier for our relationship if we kept a lot more to ourselves. It's impossible to have a positive relationship with so much negativity from the media and outsiders and we would appreciate it if everyone respects that.
Could Rob simply be attempting to shield his relationship from the outside world, or is there actually trouble in paradise? Time will certainly tell, but these two have a lot at stake! The Kardashian family drama continues...
Citations: Rob Kardashian Unfollowed And Deleted Everything Blac Chyna From His Instagram (BuzzFeed)