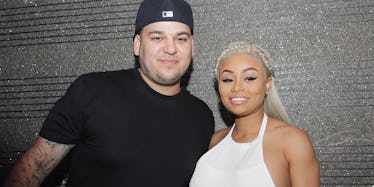 Rob Kardashian And Blac Chyna Shared The First Photo From Their New Show
REX/Shutterstock
Blac Chyna and Rob Kardashian are taking their relationship to the next level.
The recently engaged couple has been filming interviews for their upcoming reality show, "Rob & Chyna." LOL, YUP. These two are getting their own docu-series!
It's basically "Keeping Up With The Kardashians" starring Angela Kardashian. OOPS?! Sorry, Kim and Kylie, but there's a new Kardashian sister in town.
The six episodes will follow Blac Chyna and Rob Kardashian's engagement and pregnancy. Hopefully, we'll get to see clips from their future wedding, too. I'd pay millions of dollars to see Kylie and Tyga in that bridal party.
In the pic, you can see Blac Chyna and Rob filimg their side-by-side interviews. They look so cute and happy!
Rob and Chyna are a pretty adorable couple, so I'm definitely a fan.
Blac Chyna also has the best Snapchats of Rob. She's always laughing at him and stuff. I honestly think she's the most relatable Kardashian, but that's just my opinion.
We really don't have any more details about their new series, but hopefully it airs soon because I can't wait to "keep up" with Rob and Chyna.
Citations: Rob Kardashian Blac Chyna First Shot From Reality Show (ET Online)