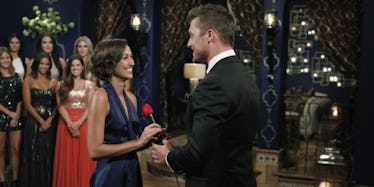 How The Portrayal Of Love On Reality TV Is Ruining Your Shot At Romance
Warner Bros. Television Distribution
I'm currently #funemployed, and so I have a lot of free time on my hands.
I've had the time to binge-watch many different television shows.
I'm a reality show junkie at heart, and I'll tune in to anything that is trashy and insane.
Thankfully, MTV continues to pump these programs my way, and I recently took the time to binge the most ridiculous dating show yet, "Are You The One?"
The premise is that 20 men and women are shipped to an "exotic" location where they're put into a house to find their "perfect match."
Since this show is MTV, the cast is loaded up with liquor, and everyone looks like a model.
Each week, every contestant has to find his or her "perfect match" (determined by extensive testing prior to the show).
If they all find their perfect matches by the end of the show, they're rewarded with an outlandish amount of money for all the saliva swapping.
This is the problem with reality television dating shows.
They promise these people "perfect matches" and "happily ever afters," but in reality, it's a cesspool of narcissistic, fame-hungry leeches who will do and say anything to stay on television.
The biggest offender is ABC's "The Bachelor" and "The Bachelorette," which give one man or woman the chance to "find love."
However, all of the contestants are sequestered in a mansion, and they're taken on exotic getaways and destination dates that would never take place in the "real world."
Another gem of a "dating" show is Bravo's "The Millionaire Matchmaker."
On this farce of a show, Andy Cohen found a "Real Housewife" wannabe in Patti Stanger, who is no-nonsense and calls it like she sees it.
But, the problem lies in her credibility.
While she may have seen success in her work prior to production of her show, week after week she "matches" people into relationships that never ever seem to work.
Furthermore, she also hasn't quite found her own "perfect match."
To me, that doesn't scream she's great at finding other people their own matches.
From the original "Joe Millionaire" to the poorly received "I Wanna Marry Harry," there have been countless dating shows that have given us hopeless romantics, wannabe models and actresses vying for a man's love.
This generation has a hard enough time committing to living arrangements, let alone relationships, and these fake dating shows are sending the message it's OK to not actually put in the work.
We're flooded with Hollywood gossip of celebrity breakups and make-ups.
We also see our "peers" finding "the one" and then replacing him or her with someone else.
It's OK not to get it right on the first try, but let's remember that nothing worth anything comes easy at all.
Relationships require effort and mutual respect, not cameras and TMZ-style scandals.
Instead of focusing only on the physical aspects and "chemistry" that are so often portrayed on these shows, production should focus on giving the contestants the time to honestly learn about one another, especially in an alcohol-free environment.
I can't tell you how many of my single friends go out in the hopes of getting wrecked and bringing someone home just for a good time.
We all inherently want to be loved, but we're not being shown what the real steps are.
We don't see the struggles and the real conversations that need to happen.
Instead, we're given a glossy "reality" that isn't even real.
Furthermore, it's increasingly frustrating that reality shows aren't more inclusive of the LGBTQ+ community.
They are looking for love as much as their heterosexual counterparts, but they are never the main feature.
The only "dating" show that was mainstream was the morally questionable "A Shot At Love With Tila Tequila," which featured her search for the "love" of either a man or woman.
Of course, it was nothing but purely sexual, overheated violence that grabbed headlines for all the wrong reasons.
If we as a generation continue to view these inadequate portrayals of finding "the one," we'll continue the vicious cycle of lust before love.
This will only create many broken hearts that will be scattered in bars and clubs all across America.
And it's all because no one could find his or her soulmate.
Let's stop being polite and starting getting real with each other in order to settle down.