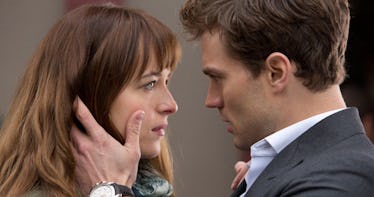 This Is Why The Razzie Nominations Should Have Been Given Oscars
Universal Pictures
In the spirit of negativity, the Razzie Award nominations have been announced today, just a day before the Academy Award nominations go up.
For those unfamiliar, the Golden Raspberry Awards, or "Razzies," award the absolute worst films to come out of Hollywood each year.
Here are the nominees for worst picture of the year (full list here):
"Fantastic Four" "Fifty Shades of Grey" "Jupiter Ascending" "Paul Blart: Mall Cop 2" "Pixels"
I'll be honest. I didn't see all of these films, but I can't help feeling like the Razzies got it all backward here. We all should be CELEBRATING these well-crafted masterpieces, not condemning them.
I mean, a movie in which Channing Tatum is both part dog AND sometimes has wings??? That is the work of a straight-up genius. I talked to a few of my coworkers, and we all agree: These babies deserve Oscars. Here are our reasons.
"Fantastic Four"
I will go on record saying that I didn't think 'Fantastic Four' was that terrible of a movie, and my proof is that I'm actually excited for the sequel. The plot was weirdly constructed, it ended abruptly and Miles Teller has the appeal of a wet gym towel, but everything else is pretty passable from a contextual standpoint, and Michael B. Jordan can do no wrong in my eyes. The movie was kind of like a really nice tea kettle with a massive but easily fixable crack, which is more than I can say for [the Paul Blart sequel], which was that same nice tea kettle completely shattered and sprinkled over a garbage fire. — Eitan Levine, Trending News Writer I didn't see 'Fantastic Four,' but there were four of them, so it was as advertised? — Robbie Gordon, Content Manager
"Fifty Shades of Grey"
It's literally 'Twilight' porn and who doesn't love that?!?! — Kelli Boyle, College Programming Coordinator Funnier than any comedy. It was hilarious. Comedy of the year. — Candice Jalili, Features Writer 'Fifty Shades of Grey' is the sh*t because of this one line: 'I'M FIFTY SHADES OF F*CKED UP.' It's a cinematic masterpiece. — Izabella Zaydenberg, Women's Writer
"Jupiter Ascending"
'Jupiter Ascending' is a beautiful film about finding your place in the universe as a motherf*cking queen of the bees. I think that's a pretty rad message. Also, Sean Bean doesn't die (and is maybe a bee?),  and Channing Tatum is a half dog with wings. HE HAS WINGS, Y'ALL. I feel like I am the only one out here defending this glorious film, and it makes really sad. Stop laughing. Guys! I'm serious! — Anna Menta, Trending News Writer
"Pixels"
This movie pushed barriers in a mystifying way. I'm sorry, did YOU make a movie with the BALLS to cast Kevin James as a GODDAMN US PRESIDENT?! I didn't think so. Say what you want about 'Pixels' -- and lord knows you have -- but any movie where a director makes the CHOICE to have Kevin James star as anything more than a FedEx delivery man or mall cop, and you have my respect. Bravo, 'Pixels.' Bravo. — Eitan Levine, Trending News Writer The short film it was based on was pretty good. That might count for something. — Connor Toole, Senior Humor Writer I took kids I was babysitting to it this summer and fell asleep, but it was a pretty good nap. — Steph Ironson, Associate Editor
"Paul Blart: Mall Cop 2"
Unfortunately, I could not find anyone in our office willing to defend this film. Sorry, Kevin James.
Citations: These Movies Were Just Named the Worst of the Year (TIME)