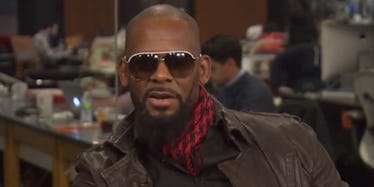 R. Kelly Ends Interview When Asked About Past Sexual Assault Allegations
R. Kelly appeared on HuffPostLive today to promote his 13th album,  and to plug a recent video posted to his Facebook fan page, in which he thanks his loyal fans, specifically the black community, for their support.
The video, a showing of gratitude on the surface, turns into the award-winning R&B artist basically begging fans to buy his album. He emotionally states,
Come on, at some point, we gotta start supporting each other. ... We have got to support each other, man. Quit playing.
The interview with HuffPostLive host Caroline Modarressy-Tehrani turned sour after smooth beginnings speaking to R. Kelly's strengths in music, and came to a close as he stood up and walked out when he had had enough.
The host addresses the subject of struggling sales with The Buffet, as R. Kelly indirectly and desperately does in the Facebook video shown in the beginning of the video above.
Modarressy-Tehrani compares The Buffet to R. Kelly's successful 2013 album, Black Panties, to ask why he thinks it's not selling as well.
The R&B veteran attributes the slow sales to "lack of support" and the downloadable nature of music today.
When she finally addresses the elephant in the room, Modarressy-Tehrani cites a tweet from a fan who says she'd never let R. Kelly babysit her daughters, but she would play his music at a family party.
Still tip-toeing around the issue, she asks R. Kelly, "What do you say to fans who are conflicted?" to which he responds, "I say f*ck that. I say, I have a lot of fans around the world that love R. Kelly."
Modarressy-Tehrani says,
When you think about R. Kelly, I think people find it very difficult to not think about the multiple lawsuits, the multiple allegations, of you having inappropriate relations — sex relations — with minors, what do you say to those people who find it conflicting?
Clearly baffled, R. Kelly begins to respond by referencing his experiences with his loving fans, and when Modarressy-Tehrani steps in to ask another question, so begins several minutes of the host and artist talking over one another.
The rocky interview continues with R. Kelly attacking Modarressy-Tehrani for her drinking habits, questioning her level of intelligence and suggesting she is staging a deposition after asking if she knows what exactly a deposition is.
Modarressy-Tehrani attacks the issue at hand head-on when she finally gets a moment to get a word in edge-wise, reiterating again how R. Kelly fans are conflicted whether or not to buy his album following his history of extensive sexual assault allegations.
R. Kelly states,
So what I'm gonna tell you is that I am going to sit here and talk to you like the beautiful lady you are and I'm going to talk to you with respect. And I'm gonna let you know that any other things come at me out of your mouth as far as negativity, I'm gonna get up, and I'm gonna walk out, and I'm gonna go to McDonald's -- hopefully the McRib is out -- and I'm going to go home to Chicago and I'm gonna play me some basketball, go to the studio and work on my next album.
Just a few moments later, the singer does, in fact, get up and walk out of what is the most awkward interview maybe ever.
Props to the HuffPostLive host for maintaining her composure and staying professional in what was surely a frustrating situation.
Watch the full interview in the video above.
Citations: R. Kelly ends HuffPost Live interview when asked about previous allegations (USA Today)