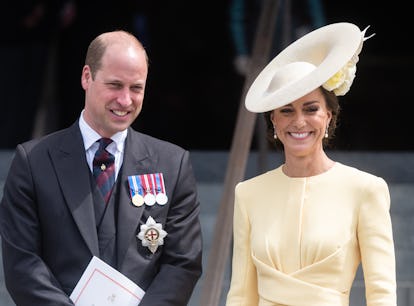 Will And Kate Just Joked About Prince Louis' Jubilee Mood
Louis is more than a prince…he's the meme king of England.
Samir Hussein/WireImage/Getty Images
No one had as much "fun" as Prince Louis did during the Queen's Platinum Jubilee. The four-year-old was constantly photographed making funny faces throughout the festivities all weekend, most notably during the Trooping the Colour ceremony on June 2 and the Platinum Jubilee Pageant on June 5. In fact, Louis received so much attention online that he became a meme. After seeing everyone's reactions to the viral photos of their son, Prince William and Kate Middleton acknowledged his behavior in a subtly funny way.
On Monday, June 6, when the couple shared a series of photos from their busy weekend on Twitter and Instagram. "What a fantastic weekend of celebrations," they captioned the post. "Seeing people across the nation coming together with family, friends and loved ones has been extremely special."
Prince William and Kate took a moment to thank everyone for celebrating the Queen's historic reign. "Thank you to everyone who turned out to show their gratitude to The Queen and her inspiring 70 years of leadership," they said. "From the crowds on the Mall to communities hosting street parties up and down the country, we hope you had a weekend to remember."
The couple ended their message by giving their son a shoutout. "We all had an incredible time, especially Louis…," they said alongside a black and white photo of Louis standing beside his parents.
The Trooping of the Colour kicked off the Platinum Jubilee on June 2, where Louis stole the spotlight from his great-grandmother by making funny faces. While sitting on the balcony at Buckingham Palace, his face registered a variety of emotions, including opening his mouth wide in surprise to scrunching his face up in confusion. At one point, he even appeared to scream and cover his ears with his hands. This all came as a surprise given Windsor family events are usually quite serious events.
Louis also stole the show at the Platinum Jubilee Pageant on June 5. Fans couldn't get over him shushing his mother, Kate. Royals, they're just like us.
All this to say, the photos of Prince Louis at the Platinum Jubilee will quite literally go down in history.