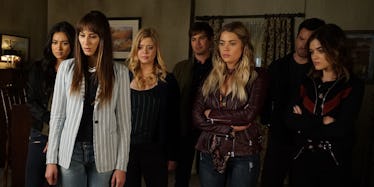 Is 'Pretty Little Liars' Definitely Over? Here's What We Know
Freeform/Eric McCandless
Here's the deal: Pretty Little Liars, the series, is ending this Tuesday.
I'm sorry to deliver the cold hard truth so bluntly, but those are the facts, folks, and we've known it for a while now.
The two-hour Season 7 and series finale will air tomorrow, Tuesday, on Freeform at 8 p.m. ET. Then there will be another hour of PLL content in the form of a televised wrap party.
And then after that, it will be officially over.
The cast contracts are up, and PLL showrunner I. Marlene King has officially moved on to her new project, Famous in Love starring Bella Thorne (which premiered on Freeform in April.)
So if you're clamoring for Pretty Little Liars Season 8, I'm sorry to burst your bubble, but nah, it's not happening.
However. There may be a possibility you won't have to say goodbye to Rosewood just yet. It won't be Season 8, but earlier this month Marlene King gave fans very high hopes for the possibility of a spinoff series.
In an interview with Entertainment Tonight, King said,
It's not a for sure thing, but there's some ideas swirling around out there. Everybody knows I love this world. I love to play in this world and I love these characters, so it would be fun to keep a few of them moving forward in their lives.
Ah-a! That almost sounds like a yes!
Super fans may recall the other PLL spinoff, Ravenswood, which starred Tyler Blackburn as Caleb Rivers in a different small Pennsylvania town where weird things happened.
Sadly, the show the only lasted one season (2013-2014) before it was canceled due to low ratings.
But hey, maybe Freeform will see the enthusiasm from fans for this finale and give a new PLL spinoff a chance.
King said she already has characters from Rosewood in mind for the new show if it did happen, but didn't want to say who just yet.
Well, Marlene, I think I speak for all of us when I say: Alison and Emily. Give Sasha Pieterse and Shay Mitchell their spinoff ASAP.
And look, if all else fails, you can probably count on a revival in 10 years. No popular show can escape that.