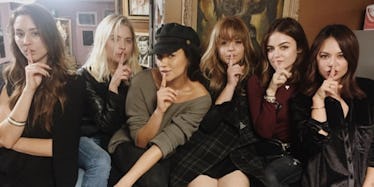 The 'Pretty Little Liars' Cast Got Adorable Matching Tattoos To Remember Show
Every television cast says they're close with each other, but I gotta hand it to the "Pretty Little Liars" cast; those girls really went the extra mile to prove their friendship.
I mean, the six main actresses from the Freeform show — Lucy Hale, Shay Mitchell, Troian Bellisario, Ashley Benson, Janel Parrish and Sasha Pieterse — literally got matching tattoos to remember their characters.
Now that's dedication to your craft. Move over, Daniel Day-Lewis.
On Thursday night, the ladies revealed their new matching ink — a tiny letter corresponding to their characters' first names, now forever etched into their "shh" fingers, as Lucy described it.
Lucy wrote,
This happened. Thank you @shamrocksocialclub for taking care of us. We couldn't not get tattoos to commemorate the show! And obviously on our 'shh' finger.
Yep, the famous "PLL" shhh is now immortalized forever.
What a nice reminder to screenwriters everywhere that you can keep your TV show on air for years, just as long as you never answer any questions! (It's true, just ask "LOST.")
The girls got the tats done at Shamrock Social Club, a popular tattoo parlor in Hollywood.
But tattoos weren't the only thing they got to remember "Pretty Little Liars" by. Showrunner I. Marlene King also got the gang matching Cartier rings.
Janel wrote,
Mar, we all love our @cartier rings. Thank you. We are always grateful your babies.
Though the characters will be in their early 20s for the final season, the real life actors are all close to 30.
So don't worry, this whole "Let's get matching tattoos!" thing wasn't the foolish whim of naive children. It was the foolish whim of fully grown adults.
Just kidding! It's sweet. Kind of. If you're into that kind of thing.
Because though "Pretty Little Liars" is ending, this show will live on forever in the hearts — and fingers — of the people who made it happen.
The final season of "Pretty Little Liars" airs April 2017 on Freeform.