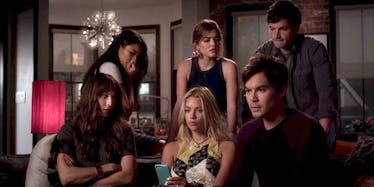 'Pretty Little Liars' Showrunner Says A.D. Was Almost Going To Be Someone Else
Freeform
Well, Pretty Little Liars fans, the moment has passed. We said goodbye to Rosewood on Tuesday night, and all of our questions were answered (for the most part) during the thrilling series finale to a show that's consumed us for seven years.
Perhaps the most anticipated and exciting part of the finale episode was when we finally found out who had been cryptically messaging the Liars for most of Season 6 and all of Season 7. That's right, to the surprise of some, the hooded tormentor was revealed to be Spencer's evil British twin, Alex Drake (A.D.).
Even though we didn't meet Alex Drake until the final episode of the series, her reveal as A.D. has been planned for quite some time. Troian Bellisario, who plays Spencer Hastings on the show, said in an interview with Elle,
I was first told in the beginning of Season 5. Marlene took me aside and told me, 'I have an idea, but I don't know if the network will let me do it...'
What's even crazier than that is Bellisario had to keep it a secret for over A YEAR! She wasn't even allowed to share the top secret info with fellow cast mates because it was never a 100 percent guarantee. In fact, the mysterious UberA was almost someone entirely different (*GASP*).
Seriously?! ANOTHER surprise?! PLL showrunner I. Marlene King told Entertainment Weekly,
Originally my mind was going to Wren as A.D., but we had to be realistic and there have been times when we really needed a character who wasn't a series regular and we couldn't get them on the show.
So, basically, Wren was the original idea for A.D., but the actor (Julian Morris) who played Wren's schedule made it too difficult to play out.
King went on to talk about how plenty of PLL fans wanted to see one of the Liars as A.D., she said,
I could never justify that being true because the show was always about their unconditional friendship. That then sort of led to this idea of, well, if we make it a twin of one of the Pretty Little Liars, that's sort of like making it a PLL, but ultimately, it makes more sense.
All these possibilities are just way too much to digest right now. I mean, I'm still reeling over Spencer having a twin. Props to all the PLL fans out there who thought of every possible option for who A.D. would be before the season finale even aired, though. You guys are the real MVPs.