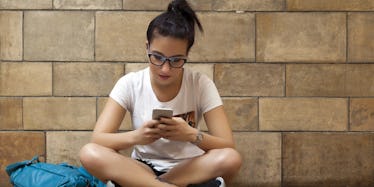 This Throwback Game Is Coming To The iPhone And '90s Kids Can't Handle It
Shutterstock
Good news for Australian 20-somethings who were nerds in the '90s: Pokémon Go is available to you right now on iOS and Android!
For the rest of us who aren't in Australia, we're going to have to wait. Screw you, Australia!
If you haven't been avidly following the progress of Nintendo's new augmented reality mobile game, here are the deets: Pokémon Go uses your phone's camera, motion sensors and GPS to put Pokémon in the real world around you.
So like, when you're playing phone games in the morning waiting for your train to arrive, you can catch Pokémon on those very train tracks. And then you can train your Pokémon on the very sidewalk you take to work every day!
CRAZY, RIGHT?
It sounds awesome and I'm sure you all want to download it right away — but again, unless you're Australian, you can't. Yet.
Naturally, people are excited and impatient.
The Pokémon Company has kept a tight lid on the release date of Pokémon Go so far, so it came as a surprise to users in Australia and New Zealand when they saw the app was available for download.
The Wall Street Journal reports the company told US and Japanese users to "please wait for a while" for their chance to get their hands on the game.
In the meantime, you can stare lovingly at the apps in the Play Store and App Store — hopefully, both will be available for download soon!
Citations: Pokémon Go is now rolling out for iOS and Android (The Verge), This App Is About To Change The Lives Of Every Closet Pokémon Fan (BuzzFeed)