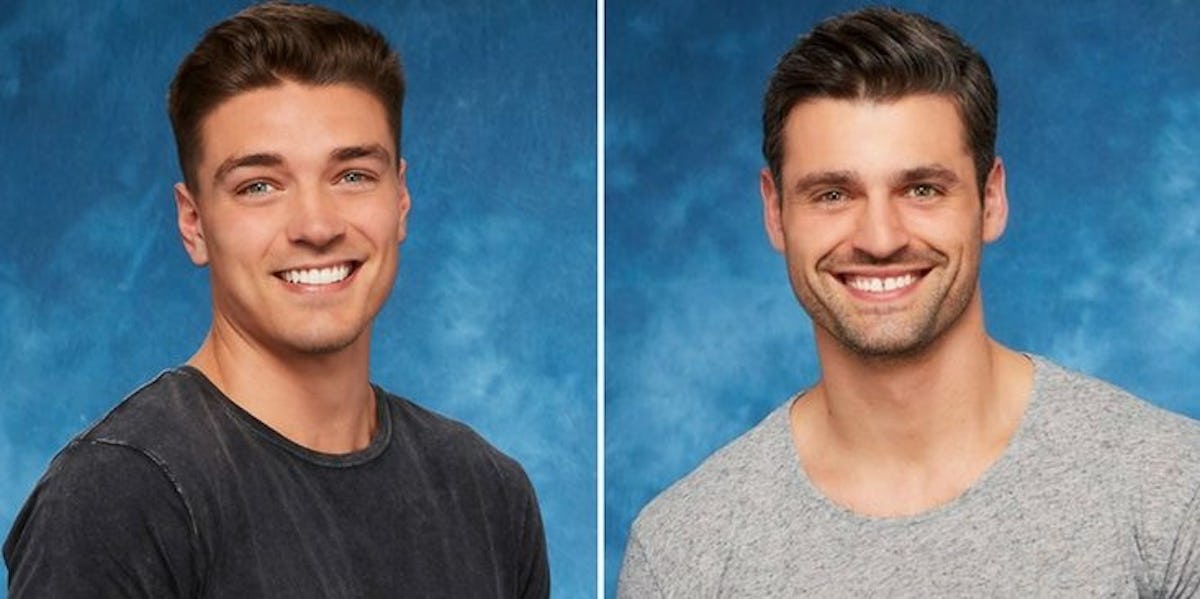 This Peter & Dean Milkshake Instagram Is Making Bachelor Nation So, So Thirsty
ABC
Nothing goes better with a viewing of The Bachelor than some sweet treats in hand. As you wait for the latest season to air, you can hold yourself over with this latest pic of Peter Kraus and Dean Unglert. Kraus took to his social media to share a swoon-worthy Peter & Dean Bachelorette Instagram post of them (adorably) sharing a couple of milkshakes.
Understandably, Bachelor Nation had a hard time containing themselves once this adorable snap hit their feeds -- we're talking all the heart-eyed emojis. This particular Bachelorette bromance is one the fans are definitely here for. How do I know? Well, they are not shy about letting these two know how much they are cherished in the Bachelorette lore.
Kraus wrote "Reunited and it feels so good!" under the black-and-white photo of the pair sipping their milkshakes with their arms intertwined. The bromance is palpable as the two, who made it to the final four of Rachel's season of the Bachelorette, keep their eyes locked in on one another without spilling a drop of milkshake -- now that is true friendship.
Some fans took to the comments section of Kraus' Instagram post to show their affection for the dynamic duo.
Bachelor nation really believes that these two are the show's one true pairing.
"@peterkrauswi I genuinely think that @deanie_babies is in love with you and I ain't even mad."
"Just looking for a boy that looks at me the way Dean looks at Peter"
"Batman to his Robin.....Spongebob to his Patrick!!! Life is beautiful..."
"The real love to come out of Rachel's season"
"This is what dreams are made of"
You guys, Dean's Instagram handle is "Deanie Babies?" That instantly makes this whole situation 100 percent more adorable.
Some fans wished they could have joined the pair for dessert
"What I wouldn't give to be those straws right now. Soo jealous of them"
"Can I be that milkshake?"
I guess the fans really just wanted to be a part of this night any way that they could.
Some fans asked the tougher questions, like this commenter who inquired, "What flavor milkshake tho?" To be fair, this is a very important detail because when it comes to dessert -- every detail is important.
This commenter might be being a little too hard on her friend
She writes, "You are SO stupid for going to Vegas last weekend and not this weekend. You could've tricked them into a double date with us...ah what could have been."
Don't beat yourself up over picking the wrong Vegas weekend. Peter and Dean would not want to see you guys fight like this -- they probably just want milkshakes and happiness for everyone.
If you're new to the Peter and Dean bromance, you can look to Kraus' Instagram to fill yourself in on their history.
Kraus posted an Instgram pic of the two back on Jul. 20. This Peter & Dean pic is from when they were filming the show in Denmark, but the best part is the caption where Kraus writes:
We shared clothes, we shared a bed, we even shared a girlfriend for a period of time, which I'm still not really sure how I'm supposed to feel about. But above all that, we shared one of the best friendships of this life time. You're like the younger brother I never wanted, but am SO glad that I now have.  I love you like my own. Incredibly sad to see you go this week, but truly happy to continue this brotherhood now on the other side.
Sorry, I should have warned you that the swoon-factor was very high, my bad. Thankfully from the looks of this latest sweet Instagram post, the brotherhood is still going strong.