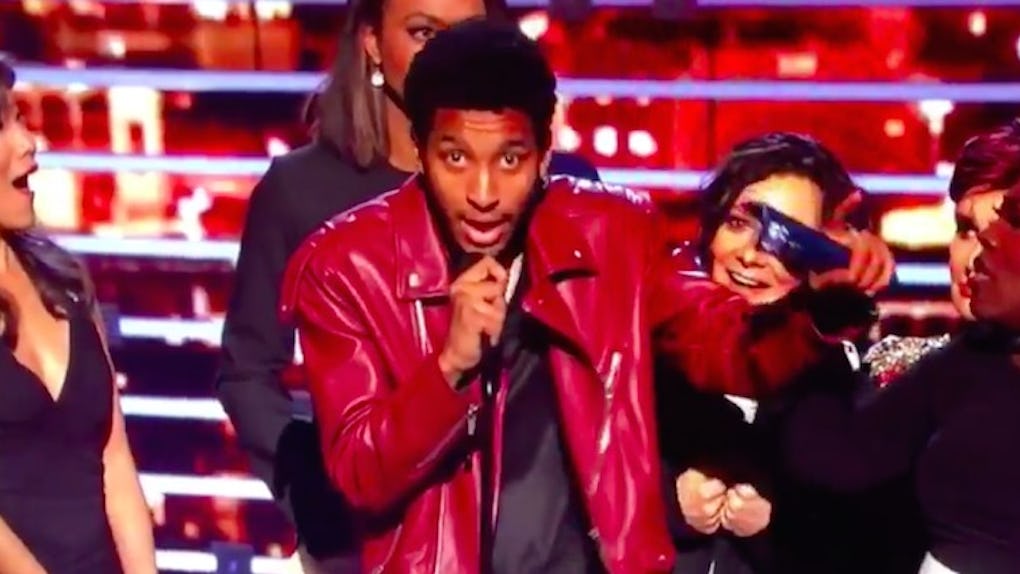 Twitter
Random Guy Tries To Pull A Kanye At The People's Choice Awards (Video)
A crazy-ass fan at the People's Choice Awards made a very Kanye attempt at stealing the thunder from the ladies of "The Talk" during their acceptance speech on Wednesday.
The CBS show hosts Julie Chen, Sara Gilbert, Sharon Osbourne, Sheryl Underwood and Aisha Tyler stood onstage accepting the award for Favorite Daytime TV Hosting Team when a random dude took what he thought was the opportunity of a lifetime.
The move was completely unoriginal, mirroring the 2009 VMAs moment we'll never forget when Kanye West hopped on stage to name Beyoncé as the artist more deserving of Best Female Video than Taylor Swift.
I'm torn...I think it was planned but then again...you never know...what do u think? #TalkInterrupted #PCAs #TheTalk #EverybodyTalks — Chance WB Hurst (@ChanceWBHurst) January 7, 2016
And yes, Sharon Osbourne kicked him #PCAs pic.twitter.com/BdkwCJCAyX — NowThis (@nowthisnews) January 7, 2016
Still laughing over the guy who tried to pull a Kanye/sell his mix tape/shoutout someone else's mixtape.😂 #PCAs — ℒindsay. (@lindsaycaulder) January 7, 2016
The guy gets a quick four seconds of airtime before Sheryl Underwood grabs the microphone from his sticky grip, shouting,
Uh uh, you ain't gonna pull no Steve Harvey up in here. No. No, sir.
Sharon Osbourne took the more direct and physical approach, swiftly kicking the intruder a few times before he exits stage right.
Watch the leather-clad Kanye 2.0 unsuccessfully climb on stage to shout out 'Ye for his latest track, "Facts," which takes aim at Adidas competitor Nike and sounds egregiously similar to Drake's "Jumpman."
He can be heard saying,
Yeezy jumped over the 'Jumpman.'