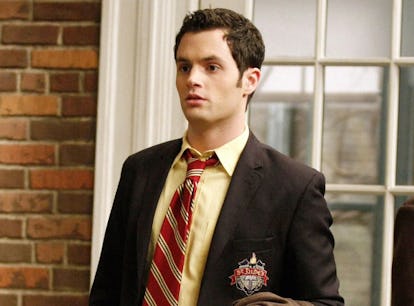 Penn Badgley Got Real About The Worst Thing Dan Ever Did On Gossip Girl
Was Dan Humphrey low-key more twisted than Joe Goldberg?
The CW
Penn Badgley was playing morally questionable characters long before his turn as murderous stalker Joe Goldberg on You. In fact, there's a surprising amount of similarities between Joe and Badgley's breakout character, Dan Humphrey from Gossip Girl. While Dan never murdered anyone, he still did some incredibly messed up things, and now looking back on the role, Penn Badgley shared Dan Humphrey's worst Gossip Girl moment, which some fans may not have even remembered.
When Badgley began playing the Brooklynite outcast in the first season of Gossip Girl back in 2008, Dan seemed to be the down-to-earth voice of reason among the scandalous chaos on the Upper East Side. But as the show progressed, it became clear Dan was just as bad — if not worse — than the social-climbing elitists he so often mocked, and the show's ultimate reveal showed Dan's true darkness, as the series finale confirmed he had been Gossip Girl all along.
Now that the series has run its course and fans have had a decade to reflect on Dan's villainous side, Badgley opened up about a very specific choice that he feels was Dan's true low point. In a video with Esquire on Oct. 19, Badgley said he thinks Dan's worst moment was when he humiliated his own sister by spilling details about her hookup with Chuck to her entire school. "He outed his sister losing her virginity. These storylines are twisted. This is villainous," Badgley said.
In case you need a reminder, Badgley is referring to a Season 4 story arc in which Dan's younger sister Jenny Humphrey decides to get revenge on Blair and Chuck by sending a very personal tip to Gossip Girl. With the mysterious blogger's help, Jenny reveals that the power couple broke up because Chuck had slept with her and Blair found out. And although Jenny did send the tip herself, she immediately regretted sharing these intimate details with the world. The moment became all the more uncomfortable in retrospect after it was revealed Dan was the person who published the salacious post about his sister's sexuality.
Yeah... yikes. TBH, there are actually a lot of terrible Dan Humphrey moments to choose from, but the Jenny thing is probably the most cringe-worthy.
After looking back on all the twisted things Dan did, it's no wonder Badgley can play Joe so well on You. Those characters are basically two peas in a creepy, stalker-y pod.