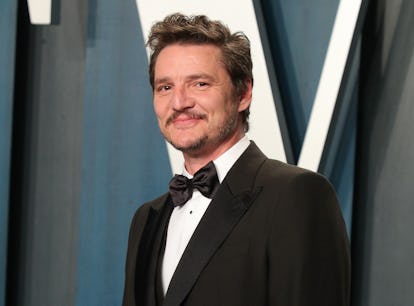 Pedro Pascal Doesn't Know "What's Wrong With People" Thirsting Over Him
"How could this happen? Focus on Harry Styles!"
WWD/Penske Media/Getty Images
Pedro Pascal is only getting more and more popular — but he seems slightly uncomfortable with this particular brand of attention. The actor's a certifiable daddy, and it sounds like he doesn't quite know what to do with all of the hype. During a promotional interview for The Mandalorian Season 3, which aired on Disney+ on March 1, Pascal reacted to his new heartthrob reputation, and he sounded... lost?
ICYMI, since The Last Of Us premiered on HBO in January, Pascal has been having a ~moment~. For a while, he seemed to be embracing his daddy reputation. In one interview with Entertainment Tonight, he even said, "I am your cool, slutty daddy." However, it seems that the actor might be having some second thoughts about his new role — and he's wondering why someone else hasn't taken over as the center of attention yet.
In a recent interview, Pascal was asked what it was like to be the internet's boyfriend, and he expressed some concerns about everyone crushing on him. "What's wrong with people who like an old man like me? I don't understand," the 47-year-old replied in Spanish. "What has happened culturally? How could this happen? Focus on Harry Styles!"
You can watch the self-deprecating clip below:
Of course, fans were quick to point out a flaw in Pascal's logic: the idea that the internet can only have one boyfriend. "But I'm focused on him AND Harry styles," one commenter explained. "I CAN DO BOTH PEDRO," another wrote.
Some commenters also took the time to answer Pascal's question: What's wrong with people crushing on him? The resounding answer: "it's the daddy issues." As one TikToker put it, "WE ARE A FATHERLESS GENERATION MY MAN!!! I'M SORRY." Not sure if that will help Pascal feel any more comfortable with his daddy role, but alas.
In all honesty, Pascal's modesty only makes him more crush-worthy. As Harry Styles (and the rest of One Direction) once sang, "You don't know you're beautiful, oh, oh-oh / That's what makes you beautiful."