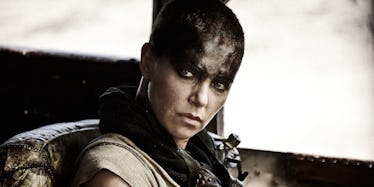 The 2016 Oscar Guide: What To Watch, Read And Listen To Before The Show
Warner Bros. Pictures
It's that time of year, people.
Oscar season is upon us, and if you're anything like me, you're not strong-willed enough to boycott the show completely.
As Stanford Blatch would say, "Some people do arts and crafts, we judge." And especially during awards season, we love to judge.
Whether it's the red carpet or the Oscar nominees, 'tis the season to talk like we know everything. Even though we never will, it's good to be prepared.
Below is a guide of things to watch (old movies, special features, previously nominated roles), things to read (books that films are based on, newspaper articles and important hashtags) and things to listen to (tribute albums, interviews and "best of" round ups) before February 28.
Consider it a list of side dishes for the main course of nominees.
Make sure to explore the complete list of nominees and enjoy the companion materials below.
What to Watch
"Fruitvale Station"
This was "Creed" director Ryan Coogler's first feature-length film, and his first collaboration with the dazzling Michael B. Jordan (that smile, tho!). They might have been overlooked by the Academy for their work on "Creed," but don't you make the same mistake.
"Rocky I-Rocky IV"
Before Adonis, there was Rocky (and Apollo). Any true fan knows "Rocky V" and "Rocky Balboa" (2006) didn't really exist-- they were figments of the American imagination.
In preparation for the Oscars, watch the first four "Rocky" films, and jump around in those USA boxers you've been hiding in the closet.
"Amores Perros"
In honor of "The Revenant" and last year's Best Picture winner, "Bird Man," watch Alejandro González Iñárritu's beautiful film about three interconnected stories set in Mexico City. Also: Gael's face is pretty. That's a great reason to watch.
"Mad Max"
In case you didn't grow up with the originals, watch "Mad Max," "Mad Max 2: The Road Warrior" and "Mad Max Beyond Thunderdome." Granted, the old films didn't look like a Vogue fashion spread, but you will rejoice in the old, somewhat normal Mel Gibson.
"A Little Princess"
Not that we need an excuse to revisit this classic, but this was Emmanuel Lubezki's first Oscar nominated film.
Lubezki won Academy Awards in 2014 and 2015 for Best Cinematography (for "Gravity" and "Bird Man," respectively). He is nominated this year for his work on "The Revenant," so re-watch this movie and make sure to have tissues handy. *weeps*
"Shoah"
To go alongside the documentary nominee "Claude Lanzmann: Spectres of The Shoah," watch this 1985 French documentary about the Holocaust. It doesn't necessarily make for a super fun Sunday, but it's good.
"Inside Out" Special Features on iTunes
Yes. You will cry watching these, too.
Previously Nominated Leo Roles
This might be the year, guys. THIS MIGHT FINALLY BE IT. We are all waiting for Leo's Oscar, so to build up the tension, re-watch his first four Oscar nominated roles: "Wolf of Wall Street," "Blood Diamond," "The Aviator" and a personal favorite, "What's Eating Gilbert Grape."
What to Read
Don't play it like Matt Damon at the Globes, guys, thank the authors! If it wasn't for them, the movie wouldn't have even been made. So, for some original material:
"Brooklyn" by Colm Tóibín
The story than inspired on screen romantic chemistry that will actually make you smile (I'm lookin' at you, Emory Cohen!).
"Room" by Emma Donoghue
You will read this quickly, because this book is the definition of a page turner. Suspenseful, heart-wrenching, creepy. Worth it. Plus, the author also wrote the screenplay.
"The Martian" by Andy Weir
My husband will argue this book was WAY better than the movie. It definitely includes more science and a couple of "that's what she said" jokes that fortunately didn't make it to the clearly hilarious -- such a good comedy, guys! -- script. (Did you note the sarcasm there? Did you?)
"The Danish Girl" by David Ebershoff
Loosely inspired by the true story of Lili Elbe and maybe responsible for Eddie Redmayne's second Oscar win in a row (#teamLeo). For additional reading, check out "Man Into Woman: The First Sex Change" by Lili Elbe and Niels Hoyer (editor).
"The Price of Salt" by Patricia Highsmith
Don't shove this into the "lesbian romance" genre; this story can appeal to everyone and now that the movie's out, you can picture Cate Blanchett's beautiful face, page after page after page.
"The Big Short" by Michael Lewis
This will probably leave you feeling nauseated, just like the movie. The author also wrote "Moneyball" and "The Blind Side," so he's no stranger to Oscar nominated adaptations.
"The Hundred-Year-Old Man Who Climbed Out the Window and Disappeared" by Jonas Jonasson
The charming and funny story of Allan Karlsson, or, you know, the hundred-year-old man who climbed out the window and disappeared.
"Spartacus" by Howard Fast
The original novel was self-published in the early 50s as the author's reaction to his imprisonment for contempt of Congress.
Read this to accompany the movie "Trumbo" (for Dalton Trumbo, portrayed by Bryan Cranston, who's nominated for Best Actor), about the screenwriter who adapted the original novel into the 1960 film of the same name.
Coverage from the "Boston Globe"
Explore the archives and read the original reporting that inspired the movie "Spotlight." You can find timelines, psychiatric documents and letters about the case, and other Globe investigations.
#AskHerMore
As much as I love the red carpet, our fascination with women's appearance is ridiculous. Read about the #AskHerMore project, which encourages the media to ask women about more than the dress they're wearing, and join the conversation on Twitter.
#OscarsSoWhite
As a Mexican, I am so excited to see people like Alfonso Cuarón, Alejandro González Iñárritu and Emmanuel Lubezki get recognized by the Academy these past few years. But the fact is, the Oscars still lack diversity.
There were no people of color nominated this year and the low numbers of minority nominees and winners in Oscar history are scary.
Learn more about #OscarsSoWhite online, the make up of the Academy, what changes are being made, and more.
What to Listen to
Because, let's face it: This season of "Serial" ain't that good, so you have plenty of free ear time.
The Best of Nina Simone and Nina Revisited: A Tribute to Nina Simone
 To accompany the documentary nominee about the amazing singer, "What Happened, Miss Simone?"
"Back to Black" by Amy Winehouse. Or anything by Amy, really.
The Rocky Story: These are tunes that will make you wanna work out your hardest or maybe even chase some chickens.
N.W.A. Straight Outta Compton, despite #OscarsSoWhite.
Check out Radio Disney if you liked "Cinderella" and want to revisit the sixth grade. It's actually kinda fun, I gotta say.
The very best of Ennio Morricone: If that Tarantino speech at the Globes didn't turn you off completely, listen to this master.
This NPR interview with Walter Robinson and Tom McCarthy: "Film Shines A 'Spotlight' On Boston's Clergy Sex Abuse Scandal."
The best of John Williams: Because you can't have the Oscars without John Williams. John. Freakin'. Williams.
There you have it, folks. I hope you enjoy exploring this guide and actually consider following it. It's educational fun, I promise. Also, you will note I did not include the original "Star Wars" on this list.
That wasn't an oversight. See ya on the red carpet!
Citations: "Spotlight" Movie (Boston Globe), "Ask Her More" Campaign (The Representation Project), "Spotlight" Interview (NPR)