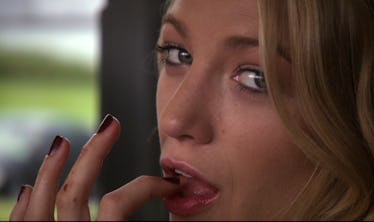 Here Are The Best Sex Scenes From The Original Gossip Girl
These steamy moments are imprinted on my brain.
Netflix
There might be a new batch of corrupt teens darkening the halls of Constance Billard, but it's hard to compete with the original Gossip Girl cast. While the HBO Max reboot, which debuted on July 8, 2021, is pretty solid, there's just something especially scandalous about the OG series. The far-fetched plotlines and hot characters are iconic, but it's the romances that really set the show apart. No matter how raunchy the new version gets, these sex scenes from the original Gossip Girl will remind you why The CW's show is so legendary.
When the first episode of the series aired in 2007, fans immediately fell for Blair's understated evilness, Serena's perpetual party-girl vibes, Nate's good looks, and Chuck's bad-boy demeanor. And while yes, the characters themselves are memorable, it was the fact that these scandalous teens were hooking up everywhere and with everyone that really made the original series so damn sexy.
The truth is, few teen shows have quite as much salacious sex as the one and only Gossip Girl. From Nate and Serena at the Shepherd wedding to Dan and Serena at the Shepherd divorce party to Blair and Chuck in the limo, here's a peek at some of the moments that had the Upper East Side talking back in the early 2010s.
Here's hoping the reboot offers as much scandalous sex and unrealistic plot points as the original. The new cast has some big shoes — and libidos — to fill.
Both the original Gossip Girl and the reboot series are streaming now on HBO Max.
This article was originally published on