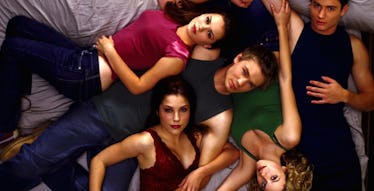 The 'One Tree Hill' Cast Had A Reunion And It'll Make You Super Nostalgic
Warner Bros. Television
AHHHHHHHH. There was a "One Tree Hill" reunion, and my little tween heart can't handle any of it.
Over the weekend, fans went to Wilmington, North Carolina to meet the cast at EyeCon's annual "One Tree Hill" convention.
The three-day event ended up being the cutest reunion ever because several of the stars got to hang out and reminisce about the series.
The cast, of course, took several group photos and uploaded them to social media to share them with the world. Bless their generous hearts.
Haley James and Nathan Scott got cuddly on the couch together, proving Naley really is forever.
And look at little Jamie! The boy is all grown up now and spending some quality time with Dad.
Don't worry, the gang's all here. It feels like 2012 all over again.
Plus, Skills and Gigi got to hang. Looking good, you two. https://instagram.com/p/BC548mLv8L0/embed/
THE TEAM, THE TEAM, THE TEAM. My heart can't take this. https://instagram.com/p/BC5hs0Fv8LU/embed/
AND LUCASSSSSSSSSSSSSSSSSS. This moment is everything.
It doesn't look like Brooke or Peyton could make it, but this reunion was still everything I dreamed it would be and more.
Preach it, Tim, preach.
Citations: One Tree Hill Reunion (E! News)