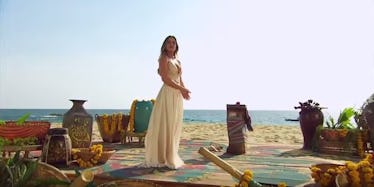 We Need To Talk About This One Thing In 'The Bachelorette' Finale Preview
ABC
"The Bachelorette" finale is almost here, and we will all finally see the end of JoJo's love saga. But, there's a major issue we all missed in the preview of the final episode.
I can't help but notice 90 percent of us have completely ignored how JoJo is talking about picking between the two men. I understand being torn, but she is torn because she can't decide between picking the guy who she loves, who she's afraid might walk away, and the man who is the safe bet.
JoJo says,
If I ended up with Jordan... and it didn't work out, I would always regret not going for Robby. And then I feel like if I went with Robby, I would always wonder like what if this other life was the life I was meant for?
UMMM, HELLO. HALT. Can we please discuss this for a second? Because, for lack of better words, she's implying and contemplating not choosing the man she loves so she can go with the man she knows loves her.
No, JoJo. Don't do it.
I understand putting your heart out on the line is absolutely terrifying. I'm happy I am not in her shoes because connecting with so many people on that level must be challenging and super hard to process.
It's like picking between red wine and white wine before a girls' night out. They're both incredible choices, and I love them both so much. I secretly prefer red, but I always go with white because that's what my friends want and I always regret it. THIS IS ESSENTIALLY WHAT IS HAPPENING IN JOJO'S LOVE LIFE RIGHT NOW.
This issue is way too common. I see couples who are in relationships with their significant others because they were the safe bet. Although I don't condone the "grass is always greener" idea, I have to keep it real.
Don't be afraid to take a chance and go for the one you love more, even if you fear you'll lose them. You should have the overwhelming sensation you can't live without this person and not just settle for the one who checks off most of the criteria on your "perfect partner" list.
When it comes to "forever," there's no cutting corners. Don't try to make things work just because it makes sense. If that were the case, I would have been married 15 times over and probably had enough alimony to last me a lifetime.
I sincerely hope JoJo ends up going with Jordan. Even if he is the man who could break her heart, he is also the one who could turn out to be the love of her life and give her the unconditional love she's been searching for since Ben broke her heart.