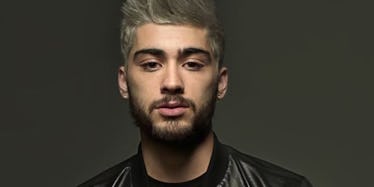 Here's Why Zayn Is Actually Better Off Without One Direction
YouTube
Do you remember the moment you fell in love for the first time?
I do.
It was August 19, 2011, the day One Direction's "What Makes You Beautiful" video was released. When I saw Zayn Malik running around the beach in baggy khakis with suspenders, I knew I'd found the one.
I was certain that his dark, mysterious eyes were burning deep into my soul.
I was immediately obsessed.
Except, I had one problem. At the time the video was released, I was entering my senior year of high school.
Surely, I was too old to be fan-girling over a boy band whose merchandise was sold in Claire's and coveted by 11-year-old girls.
I would have to fangirl in a way that was appropriate for my age. So, instead of wearing t-shirts with the boys' faces on them, and dousing myself in "You & I" perfume, I made a Pinterest board dedicated to Zayn Malik's ever-changing, luscious hair. (It's so difficult to pick a favorite style. I'm still torn between his man bun with a headband or his long hair/undercut combo. Ugh.)
Then, something magnificent happened. Zayn left One Direction.
As preteen girls around the world cried hysterically, I cried out in joy. This was the best thing that could have happened to my inner fangirl. Better yet, it was the best thing that could have happened to Zayn. Here's why:
First off, he now has the power to rock whatever facial hair he chooses.
In a recent interview with Complex, Zayn revealed that he wasn't allowed to grow a beard during most of his time in One Direction because it made him look too old.
Zayn's newfound freedom to ditch his once-strict shaving regime is great for the over-18 fans who felt like creeps for crushing on a member of a boyband marketed toward middle school girls.
Z also added that he wasn't allowed to dye his hair. As we've seen since he's gone solo, his experimental hair colors are the very gift we never knew we all needed.
Secondly, Zayn can now fully exercise his right to be the super sexual man of our dreams.
Remember how you felt when he sang, "there's a pile of my clothes at the end of your bed" in "Moments?" Well, you're probably going to forget after listening to his verse in "Back to Sleep." (Insert creepy side eye emoji here.)
Seriously. You will feel things.
Then we have all of the super obvious reasons for why Zayn leaving One Direction is the greatest thing ever. Like, now we don't have to wait a minute and a half into a song to hear one of his killer solos.
The entire album is a killer solo.
No offense to Harry, Niall, Louis and Liam, of course. You boys are all quite talented, too.
Lastly (and probably most importantly), Zayn actually seems genuinely happy now.
At the risk of sounding like one of those crazy fans who thinks she has the credibility to comment on the emotions of a person she literally does not know at all, I'd like to point out that Zayn's running around like a tatted-up ray of sunshine.
During his time in One Direction, Zayn was always labeled as the quiet one. Now, we're finding out he actually had a lot to say all along.
Zayn told Zane Lowe from Apple Radio's Beats 1 channel that he wrote about 48 songs for his debut album.
Excuse me while I cry tears of sympathy, but also tears of joy because we finally get to hear what's been bottled up inside his beautiful head for all of these years.
Thank you, Zayn, for giving us the best gift since the revelation that your enormous head tattoo was fake. (Even though, I probably would have found a way to love it, eventually.)
The #Zquad cannot wait for Mind of Mine.
Citations: Zayn Malik Interview (COMPLEX), Zayn Malik Interview (Music Times)