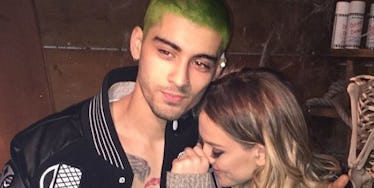 Zayn Malik Is Channeling His Inner Joker With Bright Green Hair
STOP THE F*CKING PRESSES. HOLD THE GODDAMN PHONE.
Zayn Malik dyed his hair green.
In a move clearly made to distance himself from his former life as a member of One Direction, Malik chose to adopt the hairstyle of the clown prince of Gotham.
That's right, Zayn looks like The Joker.
Zayn was spotted with the new 'do in an Instagram photo posted by his fiancée. The caption read,
#GreenHairDontCare.
I don't think Zayn is going to be fighting Batman, but he certainly looks the part.
Check out the photo below.
Citations: Zayn Malik Dyes His Hair Green Like The Joker (Huffington Post)